In a rare moment of national unity Canadian parliamentarians set aside political squabbling yesterday to unanimously support a motion that formally recognizes the ISIS persecution of Yazidis as a genocide and pledges to bring refugees fleeing the violence to Canada within four months.
MPs from all four parties presented in the House of Commons voted 313-0 to carry the motion brought in by the Conservative Party.
All parties have come together on this important humanitarian effort. Thanks John for your leadership and compassion. https://t.co/oik37V8hyU

— Justin Trudeau (@JustinTrudeau) October 25, 2016
The Yazidis are a Kurdish-speaking religious minority spread across northern Iraq and Syria, southeastern Turkey and Armenia. Their religion, which combines elements of Zoroastrian, Christian and Muslim beliefs, has made them targets of religious discrimination and persecution for centuries.
Denounced as infidels and devil-worshippers, the Yazidis in northern Iraq have been targeted by ISIS militants over the last two years. Thousands of Yazidi men were killed, while thousands of women and girls were carried off, bought and sold in slave markets, when ISIS forces overran their ancient homeland in the Sinjar province in northern Iraq in 2014.
'Concrete plan'
Interim Conservative leader Rona Ambrose, who helped guide the motion through the House, said she wants to see a concrete action plan to help the Yazidis, saying that will count more than words.
Immigration Minister John McCallum confirmed the government intends to act.
"We on this side of the House are every bit as enthusiastic and committed to welcoming Yazidis to this country," he said.
"We are looking into various ways in which this can be done and we will do the job."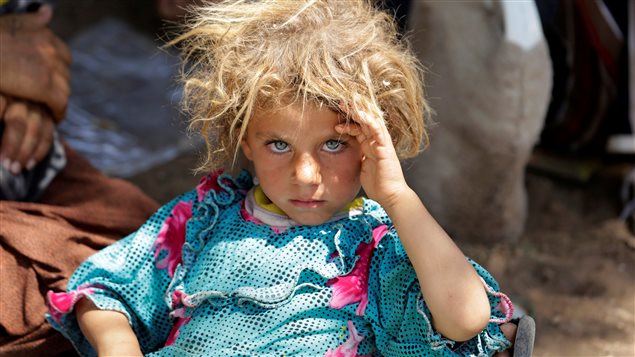 Liberals have no numbers
Ambrose has said a minimum of 1,000 Yazidi women and girls should be brought in, but McCallum didn't offer a target.
"We do not have any numbers today."
In early October, the Liberal government announced that it is sending a team of officials to Iraq on a fact-finding mission to consider best ways to help Yazidi refugees fleeing genocide.
"We recognize the exceptionally serious nature of this issue, and also the difficulties," McCallum said speaking in the House of Commons on Oct. 4. "So my department is sending an expedition — a group — over to investigate the situation in Iraq. They will be going themselves to gather facts and determine possible courses of action."
With files from The Canadian Press and CBC News