Canada's statistics gathering agency StatsCan, has released homicide figures for 2015.
The report says there  were 604 homicides in 2015, 83 more than the previous year. The homicide rate increased by 15% in 2015 to 1.68 per 100,000 population, the highest rate since 2011.
Although aboriginal peoples make up only five percent of the population, some 25 percent of the victims were aboriginal, while 33 percent of accused in solved cases were identified as aboriginal.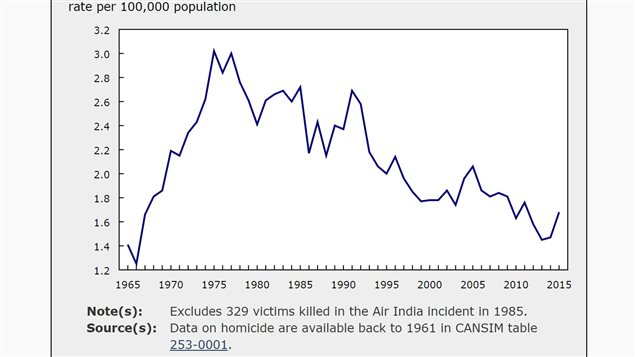 The highest per capita provincial homicide rate was the prairie province of Saskatchewan at 3.79 per 100,000 population, while the lowest was Newfoundland and Labrador at 0.57 per 100,000. Homicide rates for the territories are historically higher and in 2015, the Northwest Territories reported 11.34 murders per 100,000. While with just one murder Yukon's rate becomes 2.67 per 100,000.
There were 178 murders with firearms, 23 more than in 2014. While 98 killings were gang-related.
In 2015, some 87  percent of solved homicides were committed by someone known to the victim.
Additional information –sources