The founder of the Canadian chapter of the feminist protest group FEMEN says she intends to vigorously defend herself against charges of prostitution filed against her by the New York City District Attorney's office.
NYPD Det. Ahmed Nasser said Kseniya Chernyshova was arrested in midtown Manhattan on Nov. 11. Police allege that the 30-year-old Montrealer had agreed to have "sexual intercourse in exchange for $300," Nasser said.
Chernyshova's lawyer Danielle Von Lehman could not be reached for comment.
The Canadian chapter of FEMEN founded by Chernyshova has gained media attention over the last three years after a series of the group's signature topless protests at the Quebec legislature and press conferences by various provincial politicians.
Two members of the feminist protest group were arrested in June 2015 Montreal after jumping topless on a stage during Grand Prix festivities to denounce sex tourism during Formula One weekend. Their trial was expected to begin today at the Montreal Municipal Court.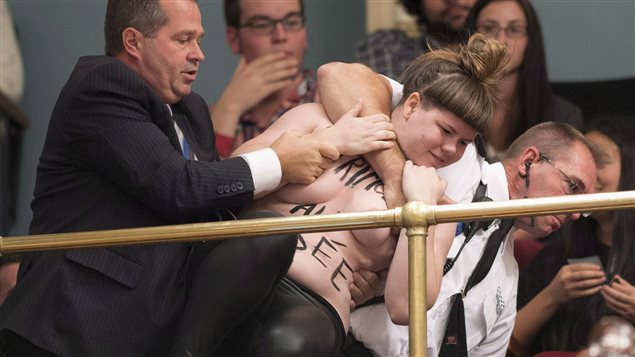 The Ukrainian-born Chernyshova, who's also known under nom de guerre Xenia Sin, has been trying to help women victims of human trafficking and sexual exploitation, said Melanie Carpentier, the founder La Maison de Melanie, an organization that helps former sex workers and victims of human trafficking.
Chernyshova has also been working on a self-produced film about the issue of sexual exploitation of women, Carpentier said.
"She was taken violently by the police while working on her independent self-produced docu-fiction called Political Playgirl, a film feared by the pro-sex lobby and judged as a promotion of prostitution by abolitionists,"  said a press release by FEMEN.
Carpentier said she spoke with Chernyshova by phone yesterday and she seemed in good spirits.
She intends to sign a contract with Chernyshova to employ her services as a marketing consultant for La Maison Melanie once her ordeal is over, Carpentier said.
Chernysheva's next court hearing is set for Dec. 6, 2016.
"Sex workers and academic feminists will be present in the Court to support Xenia Sin for every woman's fight for dignity and respect," said the FEMEN statement. "All women are invited to join them to support and to witness an historical trial."