The first of 4,000 U.S. troops plus tanks and armoured personnel carriers moved into Poland this week as part of NATO's response to a request from Poland and the Baltic States. Canada is sending 450 troops to Latvia to show its commitment to NATO and this multilateral operation.
The intervention is a response to Russia's annexation of Ukraine's Crimea Peninsula in 2014 and fears of further military operations against former Soviet Republics. Russia's move into Crimea was a response to the expansion of NATO eastward.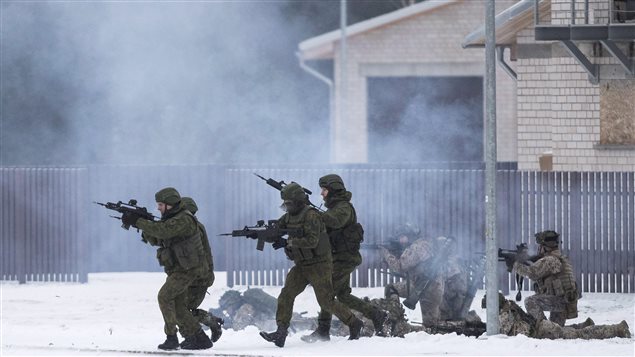 Russia calls operation 'a threat'
The Kremlin called Thursday's arrival of U.S. troops an aggressive step on its borders and a threat. This is the largest deployment of U.S. troops since the fall of communism in 1989. But it's not likely to provoke immediate action from Russia, in the view of Antoine Rayroux, assistant professor of political science at Concordia University in Montreal.
Listen
Russia is militarily prepared
"When it comes to maybe actual arms build-up and so on, there's probably not so much we should expect right now…because Russia's already prepared, militarily speaking. It already has a lot of troops stationed on its western flanks. It also has new missile capabilities that it's implemented over the past few months in a small territory next to Poland which is Kaliningrad in Russian territory," says Rayroux.
"So it is ready and, for the most part, Russia is likely to be in a-wait-and-see position, so waiting to see what's next on the U.S. side before taking any further aggressive step, if you like. So we're not likely to see any of this soon, I guess."
It's not known what changes may come after Donald Trump is inaugurated president of the United States on January 20.
Canadian leadership 'symbolic'
As part of the NATO rotation, Canada will be leading exercises in Latvia with troops from Spain, Italy and Poland. "It's important because if you look at what the Canadian government has been saying and spending on defence lately, it's really lagging behind in terms of the NATO standards," says Rayroux.
"So it (leading) is really a way for the government to show that it's willing to do its fair share of the burden when it comes to alliance commitments. So, this is, if you like, the symbolic and political implication of that."