That's what they're called in Canada (and the US): potholes.
These are the broken asphalt in roadways that develop into distinct holes; potential tire, wheel, suspension, and other car part damaging holes.
They used to happen during the spring, but now are happening much earlier as the climate changes. They are created by water getting into the pavement, subsequently freezing, expanding, and cracking the asphalt. A small crack starts, more water gets in, and the process repeats.
Another phenomenon is that of  frost getting deeper under the asphalt surface and as it freezes moisture, it pushes up the surface into a bump, a "frost heave".  In either case, the vibration and pounding from cars passing over quickly breaks up the pavement creating a hole.  With repeated pounding these holes can become many centimetres deep and thus cause real damage to cars.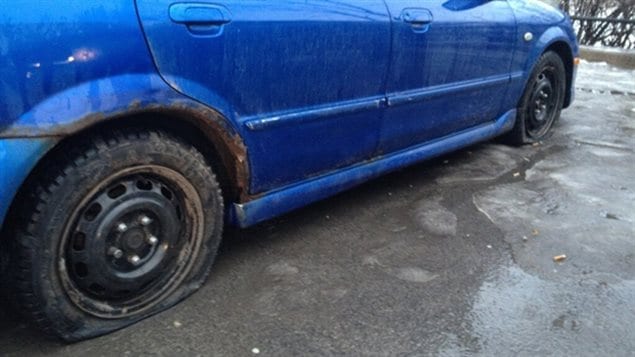 With climate change, the freezing and thawing cycles are now much more prevalent than they used to be. This month in Montreal, normally a very wintry city, the average January temperature has been six degrees Celsius warmer than normal.
CBC animation

Why don't northern European roads develop these constant problems?
It may be because of the widespread use of road salt in Canada which melts the snow into water, exacerbating the freeze thaw cycle. Very little salt is used, or allowed in Europe.
It also may be a factor of road design. European roadbeds are about twice as deep as North American standards creating a much more stable surface, less prone to frost heaves, and rutting from heavy vehicles. Ruts allow water to collect and potentially seep into the asphalt surface. And apparently much more money is spent on maintenance, including preventative maintenance.
European governments also dictate how long a road should last, and under what conditions as part of the contract, a performance guarantee. European roadbuilders are also incorporating new more resilient materials into the road surface material whether asphalt or concrete.  Europeans also use concrete more often, a more durable road surface.
CBC Saskatoon 2016

A joke in Quebec involves a car weaving erratically down the roadway, but the explanation is that it's not a drunk driver, merely someone avoiding all the potholes.
With so many potholes, some potentially dangerous, one wonders about the rush toward autonomous vehicles and how they would avoid these potentially damaging or worse road conditions.
Additional information- sources