It's a situation occurring in several countries whereby immigrants, refugees and illegal migrants deemed unacceptable or undesirable and/or who have committed crimes, can't be deported.
The Chief Justice of Canada's Federal Court has ruled that a 40-year-old man in Vancouver must stay in jail.
Jacob Damiany Lunyamila said he was from Rwanda when he jumped ship without and documentation  claimed refugee status in Canada in 1994. He was given asylum in 1996.
Then over the following several years he amassed 54 criminal convictions including several assaults, sexual assault threats, failing to appear in court.
Because of his record, he was ordered deported, and has been jailed but refuses to sign papers Rwanda needs to accept him. He says he will never sign. This has led to a legal limbo and a stalemate. He has been in jail since 2013.
[2]               In my view, where such a refusal has the result of impeding any steps that may realistically contribute in a meaningful way to effecting the removal of a detainee who has been designated to be a danger to the public, the tension must be resolved in favour of continued detention. The same is true where it has been determined that a detainee is unlikely to appear for removal from Canada.

[3]               If it were otherwise, such a detainee could simply produce, or contribute to producing, a "stalemate," for the purposes of ultimately obtaining his release from detention.
His case and incarceration has to be reviewed regularly toward release, but each time he has been sent back to jail as a flight risk and as a danger to the public.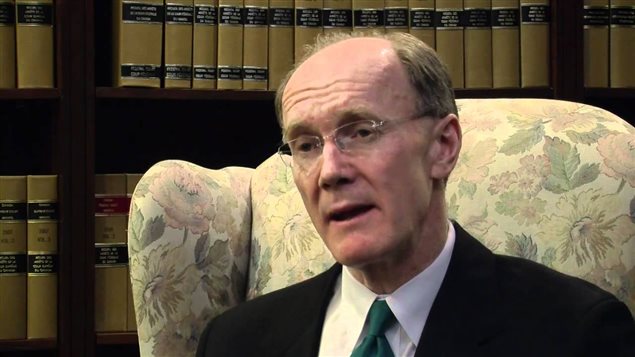 Because of that, and his refusal to cooperation with deportation, his incarceration appears to be "indefinite".
During several hearings the Immigration Refugee Board has said that he should be released as such indefinite detention runs counter to the Charter of Rights and  Freedoms .
On one of those occasions the Judge said that an IRB member's opinion that Lunyamila was a changed man was based on "a hope and a prayer".
In the latest case in October 2016, Justice Crampton said releasing the man because he refused to cooperate would be like rewarding him.
In that ruling, published only this week, the Judge expressed the opinion the man poses a danger and  said, "To permit someone in these circumstances to take the position that he should be released on the grounds that his detention had become indefinite would be effectively to allow that person to frustrate the will of Parliament and, in essence, 'take the law into his own hands'," then adding, "that would undermine the integrity of our immigration laws and public confidence in the rule of law".
Lunyamila has appealed the ruling.
The issue of being unable to deport undesirables has come up in several other countries including the UK, and the US (see below)
Additional information-sources