It's all because of a non-binding motion in Canada's Parliament. The motion proposed by a Muslim member of the Liberal government seeks to condemn racism, discrimination and Islamophobia.
Opponents fear the potential for limits on free speech. The federal opposition Conservatives saying the Liberal motion singled out Islam for special consideration proposed a very similar motion, but without the word Islamophobia. That was defeated by the Liberal majority.
The Liberal motion known officially as M-103 will be debated in April.
This weekend however, several demonstrations and marches were held in cities across Canada with supporters and opponents of the Liberal motion.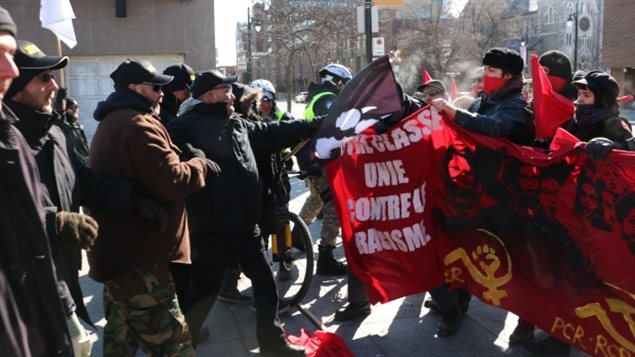 Kept apart by police, it was mostly a case of the opposing sides shouting at each other, with pro and against sides each accusing the other of being racist and/or fascist.
In Calgary Alberta, Stephen Garvey said he organized the event on behalf of the Canadian Coalition of Concerned Citizens (CCCC) to protest M-103, a motion he believes infringes on every Canadian's right to freedom of speech.
Quoted in the Calgary Herald he said, "A growing number of Canadians feel we're under threat from this anti-Islamophobia motion — we feel it's going too far," said Garvey, who's also the leader of National Advancement Party of Canada. "This whole thing of Islamophobia is complete nonsense as far as we're concerned. No religion, ideology or way of life should ever come before our freedom of speech."
The CCCC bills itself on Facebook as "an advocacy group comprised of men and women from all walks of life."  That page shows about 3,000 followers.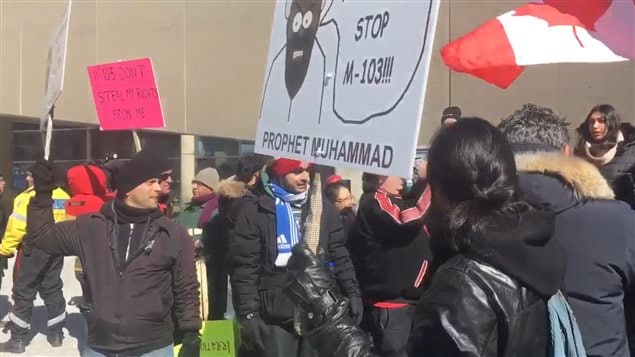 The biggest demonstrations were in Toronto and in Montreal.  In almost all cases those opposed to M-103 were outnumbered by the counter demonstrators.  In Montreal about 150 opponents of the motion faced off with a larger group
In that case several scuffles occurred though no serious injuries.
Very few arrests were made at any of the demostrations.
Additional information-sources