Could you live in a space about the size of an average house living room?
In Canada's major cities, the cost of housing whether for homes, condos or even rental apartments, is increasing beyond the scope of many people.    The answer might be to create smaller spaces, which would be less expensive.
A Canadian designer has come up with an interesting and innovative prototype even smaller that the current average size of "micro condo".
Tim Antoniuk is an associate professor of Industrial Design at the University of Alberta.
Listen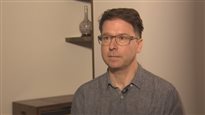 Professor Antoniuk's prototype of a micro condo is small, only 230 square feet or about 21 square metres.
He says it's designed for "millenials". Unlike the past where people accumulated possessions, he says generally this group seeks to accumulate experiences such as attending events and spending time out at restaurants and cafes.
Thus he says, smaller affordable spaces might be much more attractive for those wishing to live in the city centre where more events and experiences are available.
It could also be for retirees, seeking to downsize.
His prototype is tiny, but he says with innovation, the area can quickly be transformed into a wide variety of needs and uses as the occasion requires for someone living there.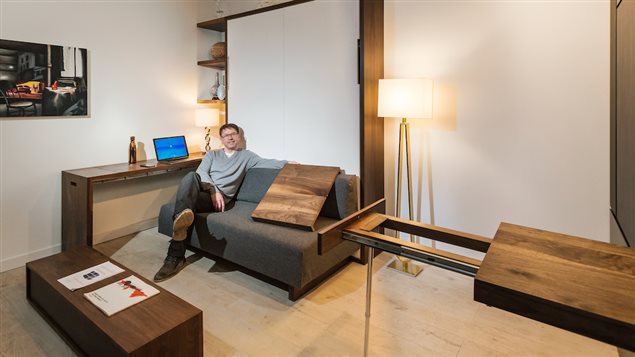 The interior walls are not just walls, they are dual-purpose.  For example a clothes closet and storage area also serves as a full wall. But not only that, the walls are mounted on discreet hidden rails so a particular space can be expanded or reduced.
By moving the bathroom wall, it can become either a full-sized bathroom, or reduced to a fairly tiny space less than a metre deep, making the living room much bigger.  A drop down "Murphy bed" transforms the place of the chesterfield, and in either case a flat screen tv can be lowered directly from its stowage space behind a kitchen cupboard to create a TV room.
The prototype has been set up in the industrial design studio, and is called the Micro Habitation Lab (mhablab).
The space was open for student and public viewing, as professor Antoniuk says, to get feedback on the designs and on what people think could work for them, or not.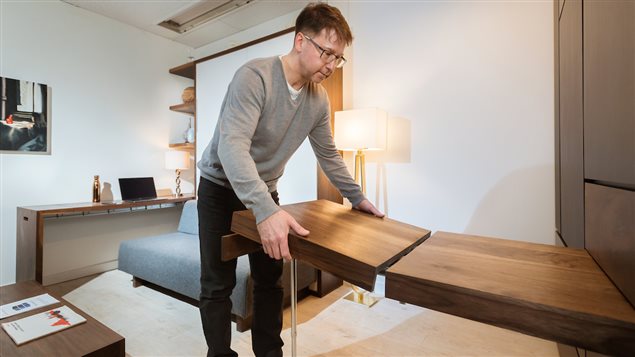 Not only for Canada
Antoniuk says this design is just a start, and the micro habitat lab will on a regular basis propose living space designs for other needs, suggesting possible solutions or alternatives for northern living, or for other groups such as new immigrants.
In each design case, it's an opportunity to get feedback from end users on what works for them so that designs may be included in actual structures at a later date.
Antoniuk notes that the micro habitat lab  idea also  seems to have sparked some interest in other countries, noting a potential interest in India.