The international community must carefully investigate the facts surrounding the "absolutely reprehensible" chemical weapons attack in Syria that killed 72 people, including 20 children, Canada's Foreign Affairs Minister Chrystia Freeland said Wednesday.
"I do want to express my very deep personal outrage and grief at the reports of a chemical weapons attack against civilians," Freeland told reporters during a teleconference call from Brussels, where she took part in the Brussels Conference on Supporting the Future of Syria and the Region.
"As a mother I have to say it's particularly horrible to see those dreadful images of the suffering and dying children."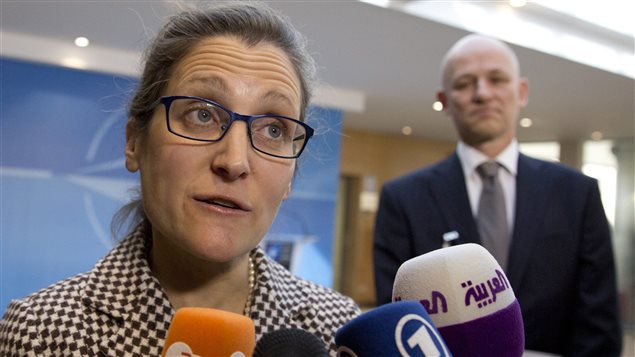 However, Freeland stopped short of blaming President Bashar Assad's government and called on all the members of the United Nations Security Council to support the resolution demanding a full investigation of the attack on the town of Khan Sheikhun, in Idlib province, in northwestern Syria.
The draft resolution presented by Britain, France, and the United States calls for a full investigation by the Organisation of the Prohibition of Chemical Weapons (OPCW) of the attack in the early hours of Tuesday in the rebel-held town.
Canada along with the United States is the largest national donor to the Joint Investigative Mechanism that was created by the UN and the OPCW, Freeland said.
"That mechanism is essential in clearly establishing the facts in situations like these," Freeland said. "It is absolutely essential that we establish the facts clearly and incontrovertibly and people behind this truly heinous attack on civilians be held accountable."
Nikki Haley, the U.S. ambassador to the UN, said the attacks have "all the hallmarks" of Assad's government and the U.S. may take action if the UN Security Council fails to act.
"How many more children have to die before Russia cares?" Haley said.
The UN envoy for Russia, which intervened in Syria in 2015 to prop up Assad, opposed the resolution, saying it is based on information from "discredited" groups.
Russia has offered an alternative interpretation of the events in Syria.
Russia's Defense Ministry spokesman confirmed that the airstrike in Idlib province was indeed carried out by the Syrian Air Force.  However, the strike destroyed a warehouse where chemical weapons were being produced and stockpiled before being shipped to Iraq, Maj.-Gen. Igor Konashenkov said in a statement.
France's Ambassador to the UN Francois Delattre refuted Russian arguments.
"There was no fire, even though such a strike [on an alleged chemical warehouse] would have caused a fire, and the consequences would have been much more serious for the civilian population," Delattre said in a statement to the Security Council meeting.
With files from The Canadian Press