It is almost 100 years to the day that Canada achieved a nation-defining moment in April 1917. It was on the battlefields of northern France during the First World War.
Where Britain and France had failed with astronomical loss of life in earlier years, a Canadian army brought together as a unified force for the first time, managed to push the Germans off a reinforced high ground in northern France near Arras known as Vimy Ridge.
It was following that huge morale-boosting victory that other nations, and Canada itself, began to realize it was a distinct entity, a nation, and not merely a colonial part of the British empire.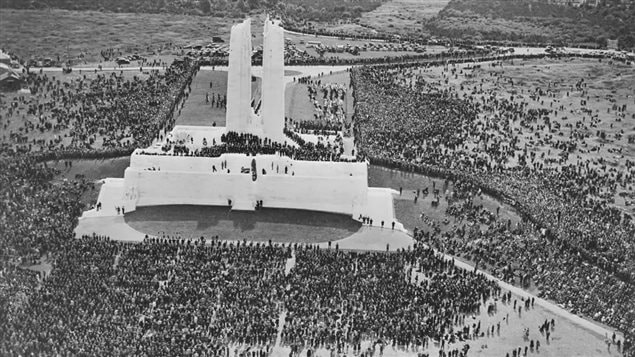 You'd think such an important event in Canada's history would be widely known by Canadians. Once upon a time it certainly was. Not so now apparently
A genealogy tracing company,  Ancestry.ca,  recently conducted a survey and found there are literally about a million Canadians who don't realize they are related to a Vimy soldier.  While their main focus is tracing your family history, their survey revealed some sadly surprising points.
Vimy ? Was that in 1812? Uh…in Canada?
Conducted in March, the Google online survey of 1001 Canadians showed that the majority didn't know in what war the battle of Vimy Ridge was fought.
Some 25 percent thought it was a Second World War battle, and five percent thought it was from the war of 1812.
Only 43 percent knew it was the First World War.
Geography was also not a strong point as 20 percent didn't know what country Vimy is located in.
Indeed, eleven percent thought it was in Canada!
A slim majority (54%) however did at least know it was in France.
It is perhaps worth pointing out that education is a provincial jurisdiction in Canada, so what is taught and how it is taught varies from province to province and there is not a unified history taught across Canada. Indeed history, and especially Canadian history, might be taught only briefly, if at all, in various schools districts across the country.
As for genealogy, Ancestry.ca used mathematical calculations to estimate there are some 15 million Canadians with a WWI veteran ancestor, and 4.5 million with a Vimy Ridge ancestor.
One in ten Canadians know they have a  Vimy veteran ancestor, ie about 3.5 millioin Canadians, which means approximately one million present day Canadians are unaware of their family connection to this seminal battle and event.
additional information