Dentists in Nova Scotia say that 36 per cent of children under six in that province have cavities and that is too many. In issuing its annual report, the Nova Scotia Dental Association notes that tooth decay is the most common childhood infectious disease and is "a big problem" in that province.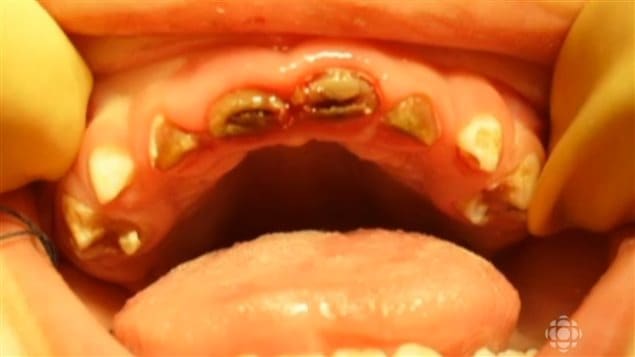 Early visits to a dentist recommended
To tackle the problem, the association is urging parents to get children to a dentist before they are either one year old or within six months of the eruption of the first tooth and every six months thereafter. It also recommends making a habit of brushing and flossing children's teeth early on.
The report says "sugary drinks like pop, juice or sports drinks are the leading risk factor for tooth decay." It says parents should strictly limit such drinks and never put a child to bed with a bottle of any liquid other than water or dip a soother in something sweet. Snacks should include fresh fruit, vegetables, hard cheeses, unsweetened yogurt and nuts. Parents should avoid the common habit of providing snacks like cookies, cakes, crackers, potato chips, gummies and granola bars.
Some cities fluoridate water, some don't
Dentists would like municipalities to add fluoride to their water supplies as this is proven to prevent tooth decay. Some cities and towns in Canada fluoridate their water but many do not.
The report also says children who participate in sports should wear mouth guards to protect their teeth.
Visit to a dentist recommended but expensive
There is strong emphasis on the care of teeth in Canada and the recommendation is that everyone see a dentist every six months. However, dental care is not covered by the public health insurance system and can be expensive. Some Canadians have access to less expensive dental care provided by university dental schools.