Russia must stop blocking United Nations action against chemical attacks in Syria, says Amnesty International. World leaders have reacted with shock and horror after dozens of people, many of them children, died from poisonous gas in northern Syria early Tuesday morning.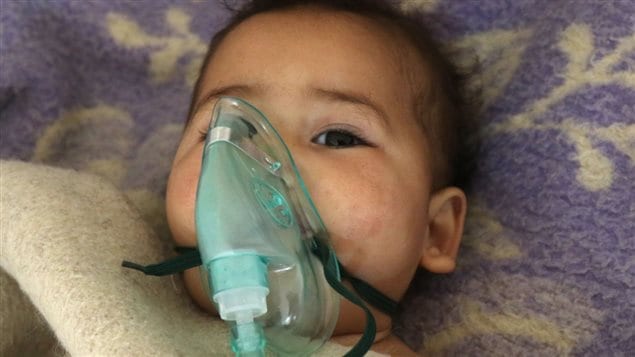 'Brutal…cruel..callous'
"Even against many years of horrific incidents, every once in a while there is something which really punches through and is just agonizing to hear about," said Alex Neve, secretary-general of Amnesty International Canada.
"It's brutal, it's cruel, it's callous and it just shows the levels of complete lack of concern that parties to this conflict in Syria show for civilians."
Listen
UN accused of abdicating its responsibility
Amnesty International is demanding the Security Council immediately vote to investigate this attack and bring the perpetrators to justice. "During the six plus years of the Syrian conflict, the Security Council which should be leading the international response to the Syrian crisis–should be insuring that there is accountability, that there's no place for the use of chemical weapons–has been tied up in knots and as a result has abdicated its responsibility," said Neve.
Amnesty blames Russia and China for repeatedly blocking past resolutions to sanction war crimes in Syria. It says there have been several chemical weapons attacks since the council passed a resolution of September 2013 for the elimination of Syria's chemical weapons.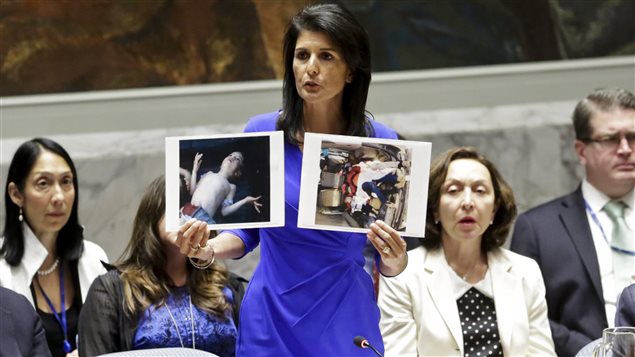 Russia opposed resolution again
The United States, Britain and France today tabled a resolution in the Security Council to condemn the chemical attack in Syria and oblige Syria's government to provide UN investigators with flights plans and logs and access to air bases from which the attacks may have been launched.
True to form, Russia's deputy ambassador to the UN opposed the resolution calling it "categorically unacceptable" because it did not wait for results of an investigation and named Damascus the culprit. He says the Syrian government carried out an airstrike on a large warehouse of ammunition and military equipment.
Videos said to confirm attack came from the air
Amnesty says experts believe a nerve agent was deployed from the air and it says it has authenticated and analysed dozens of videos from the attack site.
The organization calls on world leaders to put pressure on Russia to stop blocking action by the United Nations.