The common analgesic acetaminophen is the leading cause of liver failure in Canada and the non- profit Institute for Safe Medication Practices in Canada (ISMP) has issued a bulletin asking that it be used safely.
It notes that about 4,500 Canadians are hospitalized for intentional or non-intentional acetaminophen overdose every year.  About six per cent of them will experience liver injury.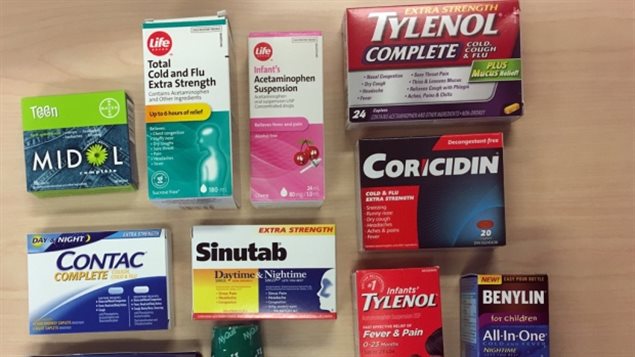 Drug is easily bought, commonly used
Acetaminophen is available without a prescription and is widely used on its own or as one of many ingredients in other products like cold remedies. In 2009, there was a safety review of these products which led to new labelling standards and warnings about the possibly fatal risk of liver injury. The rate of unintentional overdose rose from 27 per cent in 2006 to 45 per cent in 2011.
Most liver injuries involving acetaminophen are caused by doses higher than four grams per day. But lower doses were sometime toxic in patients who had pre-existing liver disease, who used alcohol excessively, were malnourished and/or used acetaminophen for longer than recommended.
Recommendations to prevent harm
The ISMP recommends doctors review a patient's history to assess whether he or she has risk factors that warrant a reduced dosage. It also suggests they offer patients a guide to acetaminophen use produced by the government agency Health Canada.
It also suggest that doses for children be calculated using accurate weight and that measuring devices be used for liquid doses.
The ISMP would like the maximum daily dose listed on the labels be reduced. This has been done voluntarily by some manufacturers outside of Canada. Where products contain acetaminophen it would like the primary display panel to say so.