Quebec is calling on the federal government to deploy the Canadian military to help with "historic" floods that threaten over 120 communities in the province as more rain is expected to hit parts of Ontario, Quebec and Atlantic Canada, provincial Public Safety Minister Martin Coiteux said Friday.
"We're facing a situation where not only we are dealing with serious flooding but the situation will continue to deteriorate for the next few days at least," Coiteux told reporters during a special briefing.
"Water levels in the number of regions in Quebec are already at levels comparable to the worst flooding we've had in our whole history."
Ile Mercier is a mess. #storm pic.twitter.com/O5CXjnIOOg

— Jay Turnbull (@TurnbullJay) 5 May 2017
Environment Canada has issued rainfall warnings and special weather statements for communities in eastern and southern Ontario and much of Quebec.
Areas around the Island of Montreal along the St-Lawrence and Ottawa rivers are already struggling with flooding after heavy rains earlier in the week and are bracing for more as the rains continue.
Atlantic Canada is also expected to be hit with more rainy weather Friday night and into the weekend.
Quebec public security officials say more than 1,326 residences in the province have been affected by flooding this week, with at least 700 people forced out of their homes.
Quebec needs additional resources to deal with what's coming, Coiteux added.
"That's the reason why I contacted today the federal department of public safety [Public Safety Minister] Ralph Goodale to ask for reinforcements and for the support of the Canadian Armed Forces," Coiteux said.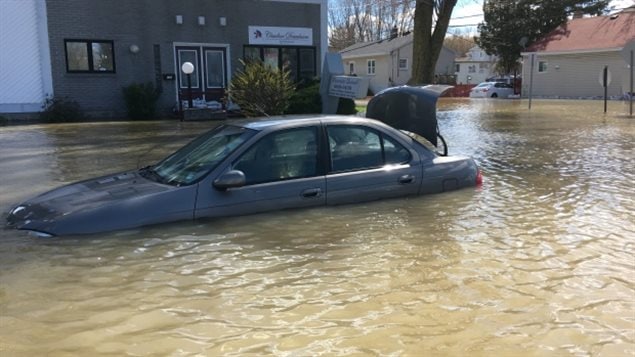 Provincial civil security authorities are monitoring the situation very closely and are in constant contact with municipal officials who are bearing the brunt of the emergency situation, he said.
Quebec has also made eligible financial assistance programs to all those affected by the flooding in 132 municipalities and more municipalities will be added to the list if needed, Coiteux said.
The financial aid provided by the government will allow for reimbursements for any protection that's needed, as well as the replacement of equipment and assets, Coiteux said.
"We have made available all necessary resources, provided them to municipalities and their residents," Coiteux said. "And of course as the situation evolves we will be adjusting our efforts."
The federal government is also in "constant and regular" contact with provincial and municipal authorities in Quebec and Ontario and is keeping a close watch on the flooding in the two central Canadian provinces, Prime Minister Justin Trudeau told reporters in Montreal earlier in the day.
"We stand ready and willing to give whatever help the federal government can to help people through this situation and we will of course be there as the cleanup continues after the waters recede," Trudeau said.
The federal government has reinforced its team at the Government Operations Centre, which serves as the federal coordination centre for response to natural disasters, and is monitoring the flooding around the clock daily, said Public Safety and Emergency Preparedness Minister Ralph Goodale.
"The Government Operations Centre is on alert 24/7/365, to make sure that we are fully aware of emerging circumstances and are prepositioning as much as that's humanly possible to do to be ready for these things," said Goodale. "The Government of Canada if asked, will respond quickly."
The Canadian military is also monitoring the situation closely and ready to deploy if needed, officials said.
"Canadian Armed Forces (CAF) personnel are in continuous liaison with Public Safety, and other federal partners," Evan Koronewski, a spokesperson for the Department of National Defence, told CBC News in an email. "The CAF diligently plans for various contingencies to be ready to fulfil the direction of government, including the potential contribution to a federal response to an emergency in Canada."
The threat of flooding in Atlantic Canada comes as the Canadian Army is conducting Exercise STAGED RESPONSE 2017, an annual emergency response exercise on Friday and Saturday in locations throughout western Nova Scotia.
More than 200 Reserve and Regular Force soldiers, including members of the 5th Canadian Division's Immediate Response Unit, will participate in the exercise that could turn into a real life emergency response situation.
With files from CBC News