The flood waters in eastern Ontario, Quebec and parts of New Brunswick are finally beginning to slowly recede after a few days of little to no rain. The situation is also improving in the British Columbia interior where two men have been listed as likely killed by flooding and mudslides. In Quebec the body of a man swept away when his car was trapped, has been found. A young child with him has not yet been found.
Although Quebec didn't get the most rain, it was the hardest hit by flooding.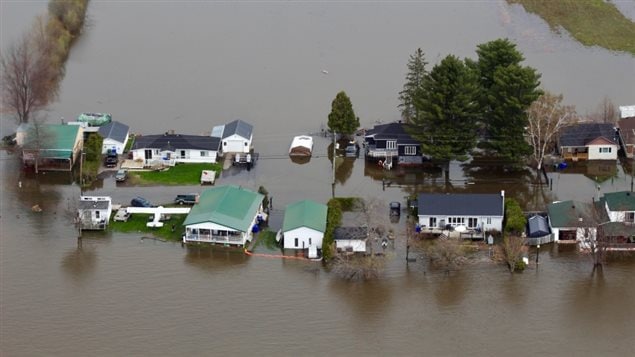 Emergency Services Quebec (Urgence Quebec) tweeted the situation in that province as of 2100 hours, yesterday May 9. Urgence Quebec tweeted that some 166 communities experienced varying levels of flooding, while 3,882 homes have been listed as flood damaged, with 2,721 people evacuated.  Over 550 roads in Quebec were damaged as well and 1,650 military personnel were deployed to help with a variety of needs including sandbagging.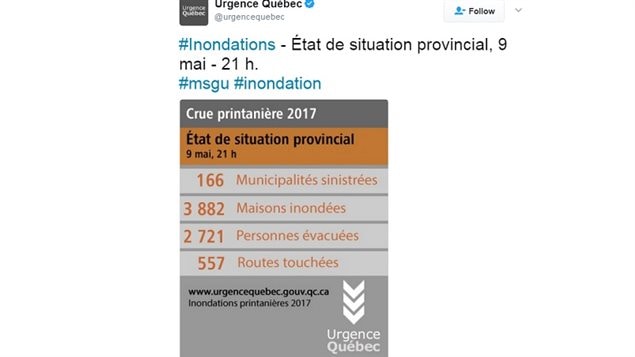 While the federal government said it would cover the cost of the military effort, it is uncertain what the final cost of the rains will be.
Depending on individual situations, a flooded basement alone can cost tens of thousands of dollars.  Many people don't have overland flood insurance.  Indeed overland flood insurance has only been available in Canada in the past few years and even then often doesn't cover the full cost of damage.  In some cases insurance simply won't cover a house in a high risk area.
Flooding in Pierrefonds on the northwestern edge of the island of Montreal. (Daniel Meli)
The insurance Bureau of Canada Alberta reported that the flood of 2013 as the most costly natural disaster in Canadian history at $1.7 billion, followed by the 1998 ice storm in Quebec at $1.5 billion. The IBC said the average basement claim in the Calgary flood was $250,000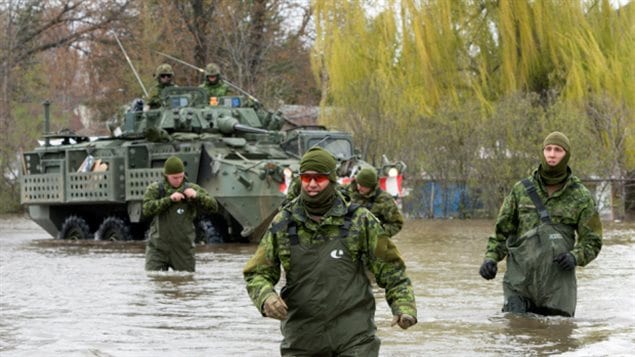 Climate change increasing damage but few people aware
 The University of Waterloo conducted a study recently of people living in designated flood risk areas across the country. Of the 2,300 people only 6 percent even knew they were in a flood risk zone.
In spite of evidence of climate change and increasing risks of severe flooding, only 21 per cent think the situation will get worse in the next 25 years.
While response to flooding is an issue, many experts are saying, governments at all levels and individuals, should be trying to avoid problems in the first place.
The University's Intact Centre on Climate Adaptation (Intact Centre)  recently has been involved with drawing up ideas to reduce the risk
They've initially suggested a few examples of community design features that can collectively reduce flood risk which include:
 Avoiding floodplains when developing new communities
 Modeling climate uncertainty and extreme weather events (ice jams, snowmelt, extreme rain) in the design of new subdivisions
 Protecting natural features (e.g., wetlands) along rivers and streams to slow floodwater
 Installing backwater valves to prevent sewage in overloaded sewer lines from backing up into basements
While the situation is currently slowly improving, more trouble could be ahead in Quebecas the forecast for the weekend calls for more rain, anywhere from 20 to 40mm depending on the region,
additional information-sources