Canada's foreign affairs and defence ministers are heading to Mexico City and Washington to discuss continental trade and defence issues after the United States formally notified Canada and Mexico last week that it wants to renegotiate a key trade agreement between North American neighbours.
Foreign Affairs Minister Chrystia Freeland will be travelling to Mexico City on Tuesday to take part in a conference that will bring together business leaders and high-level Mexican government officials to "discuss the opportunities for and challenges of North American integration," said a statement from Global Affairs Canada.
During the conference, Freeland and Mexico's Secretary of Foreign Affairs Luis Videgaray Caso will participate in a panel discussion on strategic issues in the North American relationship.
Freeland will also discuss the North American Free Trade Agreement (NAFTA) with Videgaray Caso and with Ildefonso Guajardo Villarreal, Secretary of Economy, now that the U.S. has given both Ottawa and Mexico City a 90-day notice that it intends to renegotiate the 23-year-old free trade agreement.
She will also have a meeting with José Antonio Meade Kuribreña, Secretary of Finance and Public Credit.
"Collaboration between Canada and Mexico is already extensive, but now is the time to do more: to deepen our business relationships and to create sustainable economic growth for all of our people," Freeland said in a statement. "We are not only friends and neighbours but strategic partners as well."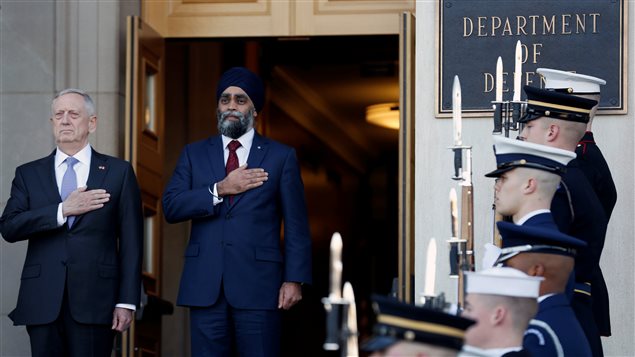 In the meantime in Washington, her cabinet colleague Defence Minister Harjit Sajjan is taking part in the third meeting of the North American Defence Ministers.
U.S. Secretary of Defense James Mattis is hosting Sajjan along with Mexico's Secretary of Defence Gen. Salvador Cienfuego Zepeda, and Mexico's Secretary of the Navy, Admiral Vidal Francisco Soberon Sanz during a two-day meeting.
Sajjan had separate bilateral meetings with Mattis and his Mexican colleagues, and then all three sides met together, said Sajjan's spokesperson Renée Filiatrault.
They discussed defence cooperation in a variety of areas, including humanitarian assistance, disaster relief, cyber security and peacekeeping, Filiatrault said.
#SecDef Jim Mattis signs a joint statement with the North American Defense Ministerial following meetings at the #Pentagon in #WashingtonDC. pic.twitter.com/VfH7GZc73K

— U.S. Dept of Defense (@DeptofDefense) May 22, 2017
Productive meeting with North American defence counterparts. Our continental security is paramount. ?????? pic.twitter.com/txhNLcOp9J

— Harjit Sajjan (@HarjitSajjan) May 22, 2017
Sajjan will also hold bilateral meetings on Tuesday.