Prime Minister Justin Trudeau spoke today with Ukrainian President Petro Poroshenko to coordinate Ottawa's and Kyiv's positions on Russia as well as strengthen bilateral ties, the Prime Minister's Office announced.
"The leaders discussed the importance of maintaining unity on sanctions on Russia and Prime Minister Trudeau reiterated Canada's steadfast support for Ukraine," said a readout of the phone conversation with Poroshenko released by the PMO.
Poroshenko briefed Trudeau on the latest developments in the Donbas region of eastern Ukraine, which is partially controlled by pro-Russian rebels, and the ongoing violation of the Minsk agreements by Russia, said a statement from the Ukrainian president's office.
"The President of Ukraine expressed confidence that the leaders of NATO and G7 will deliver an appropriate assessment of the given situation, particularly in the issue of continuation of sanctions' pressure on Moscow," said the readout released by Poroshenko's office.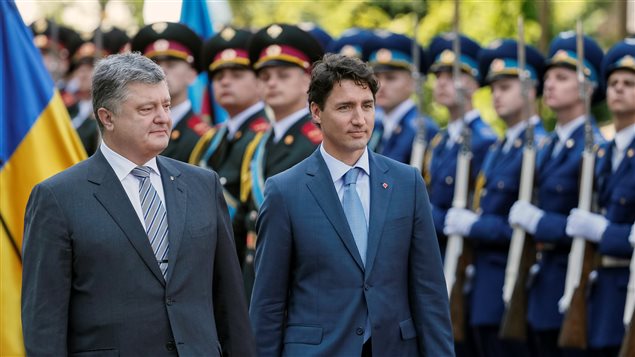 Poroshenko also thanked Canada for extending the Canadian military's Operation UNIFIER training mission in Ukraine by another year and the recent singing of the Canada Ukraine Defence Cooperation Agreement, which opens the doors for exports of sophisticated Western military technologies to Ukraine.
The two leaders also praised recent ratification of the Canada Ukraine Free Trade Agreement by the Canadian Senate that paves the way to its full application in the nearest future, the statement by Poroshenko's office said.
Poroshenko also discussed with Trudeau the issue of visa liberalization between Canada and Ukraine. Canadian citizens can travel to Ukraine without visas, however Ukrainian citizens still need to obtain visas to travel to Canada. In April, the European Parliament gave final approval for regulations that grant Ukrainian citizens visa-free travel in the European Union (with the exception of the United Kingdom and Ireland).
Poroshenko told Trudeau that the EU's visa waiver for Ukrainians "provides conditions for intensification of dialogue on visa liberalization between Canada and Ukraine," according to the official readout of the phone conversation.