Ukraine's quest to get access to sophisticated Western weapons and defence technologies to fight Russian-backed rebels in the eastern part of the country got a step closer with a defence co-operation agreement signed in Ottawa earlier this week.
The bilateral deal, signed by Defence Minister Harjit Sajjan and his Ukrainian counterpart Stepan Poltorak on Monday, aims to identify "areas of mutual cooperation such as defence policy; defence research, development, and production; and military education."
"Today's signing of the Defence Cooperation Arrangement shows Canada's steadfast commitment to Ukraine and the Ukrainian people," Sajjan said in a statement. "It strengthens the ties between our two nations and helps us continue to develop our rich, mutually beneficial relationships."
The agreement is "a great sign of support for Ukraine," said Ukraine's ambassador to Canada Andriy Shevchenko in an interview with Radio Canada International.
(click to listen to the full interview with Andriy Shevchenko)
Listen
But it's also a two-way street that would allow Canada to benefit from the cooperation with Ukraine, he said.
"One of the avenues of cooperation is to make sure that Ukraine shares the lessons that we learned fighting the war against Russia in the east of the country," Shevchenko said. "We pay a very high price for this experience and we want to make sure that our partners, our friends do get these lessons."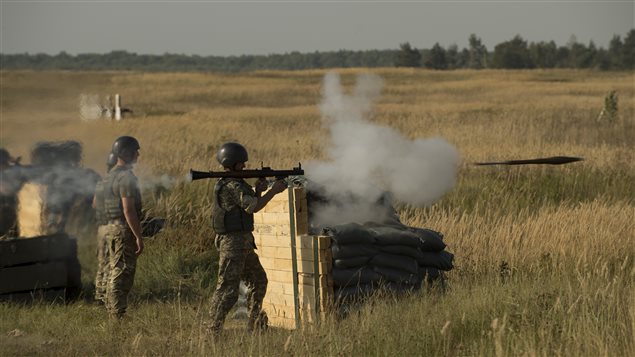 The deal was also welcomed by the Ukrainian Canadian Congress (UCC), which had lobbied hard the previous Conservative and the current Liberal government of Prime Minister Trudeau to provide Ukraine with lethal military aid, in addition to the non-lethal assistance Ottawa began providing following Russia's annexation of Crimea.
"Today's signature is an important step forward in strengthening Canada and Ukraine's bilateral security and defence relationship," Paul Grod, national president of the UCC, said in a statement. "At a time when Russia's military aggression against Ukraine continues unabated, this Arrangement will help Ukraine's military better defend their country and continue the reform of Ukraine's defence institutions."
After the collapse of the Soviet Union, Ukraine inherited a vast military industrial complex capable of producing everything from tanks and armoured vehicles to aircraft and ballistic missiles.
However, without sustained investment in research and development Ukraine's defence industry has fallen behind of not only Western but also the Russian military industrial complex with which it was closely intertwined prior to the 2014 crisis in Eastern Ukraine.
The deal with Canada could give the once neglected Ukrainian defence industry access to state-of-the-art Canadian and Western technology, particularly in modern communications, electronics, night vision equipment, precision guided munitions, as well as target identification and acquisition systems.
"I think this agreement brings us one step closer to that objective," Shevchenko said. "We hope that it will help us to start a conversation with Canada about putting Ukraine into the Automatic Firearms Country Control List, but I think it's important to look at this in the broader sense."
The arrangement recognizes the fact that Canada and Ukraine have a very mature partnership, he said.
"I think there is very pragmatic common interest that we have that it comes to defence," Shevchenko said. "We share the same neighbour, which does not respect international law, which does not respect borders. And I think it's a very clear pragmatic interest of Canada and Ukraine to make sure that we find a way to bring that neighbour back to respect international law."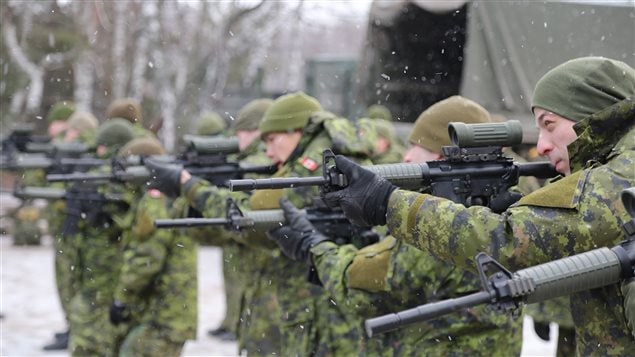 Coming on the heels of Trudeau's decision to extend Operation UNIFIER, Canada's military training mission in Ukraine until the end of March 2019, the deal signals further toughening of Ottawa's line against Russia.
"Canada remains fully committed to providing assistance to Ukraine, helping to preserve and protect its sovereignty through Operation UNIFIER, and to supporting the implementation of key reforms," Sajjan said.
However, as expected, the deal was met with stern criticism by Russian authorities.
"Rather than encourage Kiev regime's military ambitions, real efforts should be taken by Ottawa to force the Ukrainian authorities to fully implement the Minsk accords, including direct political dialogue with Donetsk/Lugansk republics, as well as to push forward constitutional reform," said Kirill Kalinin, the spokesperson of the Russian Embassy in Canada, referring to the pro-Russian self-declared republics in the rebel-controlled parts of Donetsk and Luhansk regions of Eastern Ukraine.
"Killings of civilians in Donbas by Ukrainian forces should have stopped a long time ago," he added.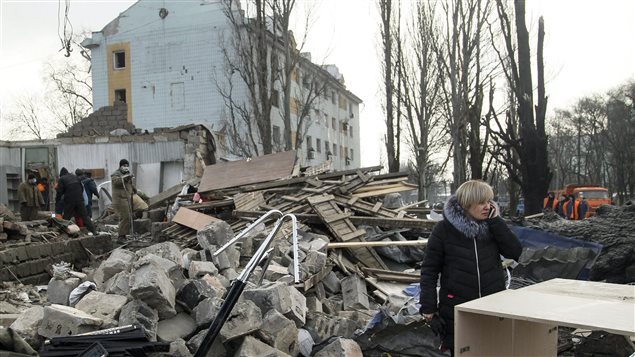 Both the pro-Western government in Kyiv and the pro-Russian rebels in the Donbas region accuse each other of undermining key elements of the 2015 Minsk Agreements to resolve the conflict by peaceful means.
Both sides also accuse of each other of indiscriminate shelling of civilian areas.
According to the UN human rights office, the total death toll from mid-April 2014 to early December 2016 stands at 9,758 with another 22,779 people injured. This includes more than 2,000 civilians killed and over 6,000 injured. Those numbers have only increased due to the recent flare-up of renewed fighting between government forces and rebels.
With files from CBC News