South Sudan is no longer classified as being in famine following an increase in international aid, but the country is experiencing the most alarming levels of food insecurity in its history, according to a newly released United Nations report.
According to an early warning famine report released today, the number of people declared to be in famine decreased from 100,000 to 45,000, due to humanitarian aid reaching the areas of Leer, Mayendit and Koch counties where famine was declared earlier this year.
However, in June and July, the number of people in need of urgent food assistance will rise to six million up from 5.5 million last month. That is half of the population in South Sudan and according to the World Food Programme, 1.7 million people still face extreme hunger – one step below famine.
What is a famine?
The UN and most major aid organizations use the five-level Integrated Phase Classification (IPC) system – from 'generally food secure' in Phase 1 to 'famine/humanitarian catastrophe' in Phase 5 –  to classify food insecurity.
A famine is declared only when:
at least 20 per cent of the population has access to fewer than 2,100 kilocalories of food a day
acute malnutrition in more than 30 per cent of children
two deaths per 10,000 people, or four child deaths per 10,000 children every day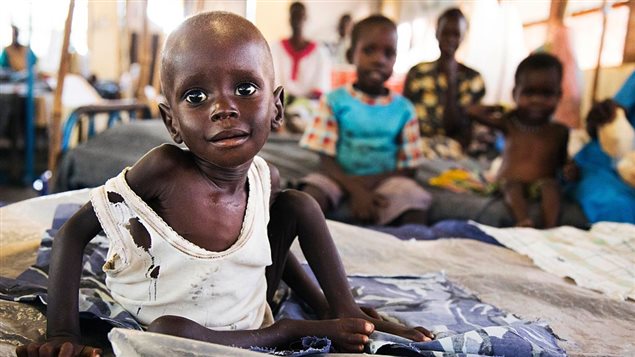 Three years of vicious civil war along ethnic lines have contributed to an economic crisis that has been exacerbated by crop failures, sending food prices skyrocketing. The result has been a food crisis that continues to spread throughout the country.
The highest proportions of populations in Crisis (Phase 3), Emergency (Phase 4) and Catastrophe (Phase 5) are observed in Unity State (61 per cent) and Greater Jonglei State (63 per cent), according to the IPC report.
Desperate situation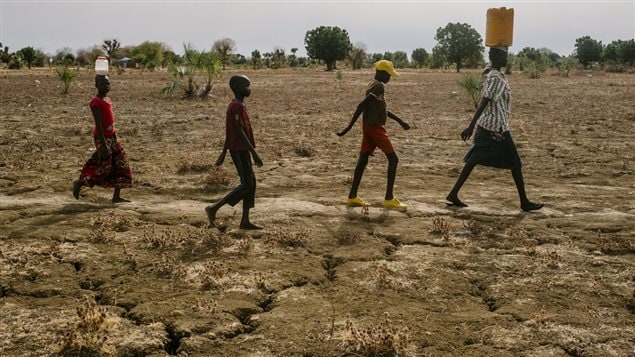 International Development Minister Marie-Claude Bibeau who returned from a four-day trip to South Sudan on Tuesday said the situation in the country remains desperate.
"I was in the north of the country to witness some air drops," Bibeau said Tuesday in a telephone interview with Radio Canada International.  "It was something to witness such a situation. We are in the middle of nowhere, there were already 10,000 people waiting, they were expecting 40,000 people within two or three days coming from very far, walking this distance to get some food to have for a month.
(click to listen to the full interview with Marie-Claude Bibeau)
Listen
Bibeau said she was deeply touched by her meetings with ordinary South Sudanese women and children and awestruck by their resilience.
"When we see it on television, it's already hard but to meet with these women and these kids it makes us realize how important it is that Canada contributes to support our partners and give them hope," Bibeau said.
#Canadian Minister @mclaudebibeau visits WFP food dist. & airdrops in #SouthSudan to see how working with partners we are #SavingLives pic.twitter.com/cLqKSYXTFO

— World Food Programme (@WFP) 18 June 2017
Canadian aid
On the final day of her visit to South Sudan on Monday, Bibeau announced that Canada is contributing another $86 million to assist the famine and war ravaged country. The new money, which comes on top of $36.9 million in humanitarian assistance to South Sudan Ottawa announced in March, will improve access to basic health services, including family planning and reproductive health care for women and girls as well as increasing access to food, Bibeau said.
The new funds are also an addition to the Famine Relief Fund recently announced in response to the widespread food crises in South Sudan, Somalia, Nigeria and Yemen, in which the government will match the contributions made by Canadians until June 30.
In the 2015 to 2016 fiscal year, Canada's international development assistance to South Sudan totalled over $91 million, Global Affairs said.
Tough message
During her visit Bibeau also met with South Sudan's President Salva Kiir Mayardit and Health Minister Riek Gai Kok to deliver a tough message.
"They have to work for peace, I mean there will be no development and economic growth if we cannot reach peace," Bibeau said. "I encouraged them to invest in their health system and not to rely only on international organizations, I encouraged them to be very inclusive in their peace process, making sure that they are including women, obviously, and I made it clear that in decision making (positions) and not only as an aesthetic (decoration), and be inclusive as well in terms of ethnic groups."
However, Bibeau would not to commit to lobbying her cabinet colleagues to send a Canadian peacekeeping force to South Sudan.
"We already have 10 officers in South Sudan right now and want to be sure that we will send our team where Canada can make the biggest difference in the field, so the decision hasn't been taken yet," Bibeau said.