Human remains are being unearthed at a graveyard outside the gates of the massive Fortress of Louisbourg on Canada's Atlantic coast. The graveyard is being eroded by coastal waters so the graves are being dug up, studied for clues about life in the 18th century, and then they will be reburied in a location safe from erosion.
Fortress built for fishing and defence
Louisbourg was built by France in 1713 for two reasons: to secure access to the enormous stock of cod fish off its shores and to guard the shipping lanes to protect the French colonies along the St. Lawrence River. It was big enough that it included a small town. But the French lost control of it to the English in 1758.
The graveyard excavation began last week and is a five-year joint project of the University of New Brunswick and the government agency responsible for this historic site, Parks Canada. The dig has already yielded material that speaks of the era. "For instance, one the skeletons we found here, there were a number of very elaborate buttons," says David Ebert, a strategic advisor for Parks Canada.
Clues to 18th Century life revealed
"So you can image that this person was laid to rest in some sort of fancy piece of clothing that really spoke to the care and respect and love that the people who were burying him had."
Much can be learned from how people were buried and what was buried with them, but also from the human remains. There can be clues about age, size, diet, and illnesses.
Listen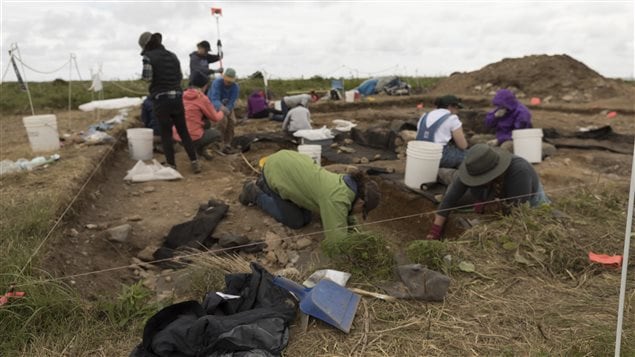 Out of respect for human remains, Parks Canada policy is to neither keep nor photograph what is unearthed. It will rely on the students and their supervisors to document what they find and describe how it illuminates life at the time.
"It'll really help us enrich the story here at Louisbourg and help visitors better understand the lives of people who were here," says Ebert. "That'll be the biggest legacy of this project."
This year's work will go on until August 20th and visitors are allowed to observe it and get information from guides and the archaeology students themselves during weekdays.