The mayor of Quebec City held a news conference today to announce that the Muslim community will buy a piece of land and be able to bury their dead close to the city's main mosque.
This is a relief for the community which endured the recent rejection of plans to set up a cemetery in a small town southwest of Quebec City. People living near the proposed site were allowed to vote on the plan in a referendum and rejected it by 19 to 16.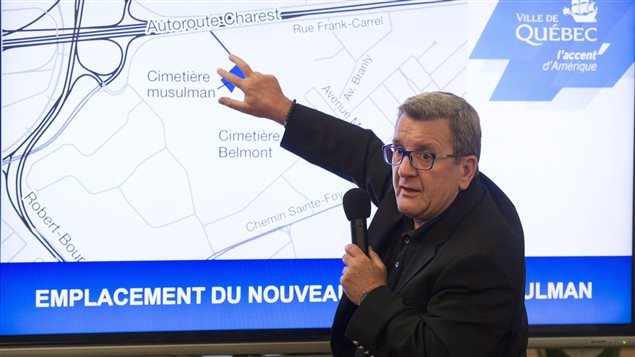 A two-decade quest
The Muslim community of Quebec City has been looking for a cemetery site for two decades and until now have had to either bury their loved ones in Montreal or in their countries of origin. The urgency to find something closer intensified after a gunman attacked the mosque last January and killed six men and injured 19 others.
The new cemetery will be near the Notre-Dame-de-Belmont cemetery. The parcel of land is 5,700 square meters and will cost the community $270,000.
"Many Muslim families in Quebec City will no longer have to endure the sorrow of the remoteness of their deceased," said Boufeldja Benabdallah, the QICC's interim co-ordinator for the cemetery project. CBC reports he was overcome by emotion and the mayor put a reassuring hand on his shoulder.