Top officials from Canada, Mexico and the United States kicked off formal negotiations on revamping the North American Free Trade Agreement as U.S. trade representative Robert Lighthizer called for a major overhaul of the trilateral accord, arguing it has "fundamentally failed" many Americans.
Speaking at the formal opening of the talks in Washington, D.C., Lighthizer signalled that the Trump administration is seeking fundamental changes to the 23-year-old trade agreement in order to restore its trade balance amid a record of long-standing trade deficits with Mexico and Canada.
"I want to be clear that he (President Donald Trump) is not interested in a mere tweaking of a few provisions and a couple of updated chapters," he said Wednesday during opening remarks for ministerial discussions. "We feel that NAFTA has fundamentally failed many, many Americans and needs major improvement."
Restoring trade balance
Lighthizer said repeated U.S. demands for increased regional and U.S. content in autos produced in the region, the largest source of a $64-billion U.S. goods trade deficit with Mexico last year. He also said the United States would insist on strong provisions governing labor and currency practices.
"We need to ensure that the huge trade deficits do not continue and we have balance and reciprocity. This should be periodically reviewed," said Lighthizer. "The rules of origin, particularly on autos and auto parts, must require higher NAFTA content and substantial U.S. content."
The dim view of NAFTA contrasts sharply with both Canada's and Mexico's perception of the trade pact.
Not a zero-sum-game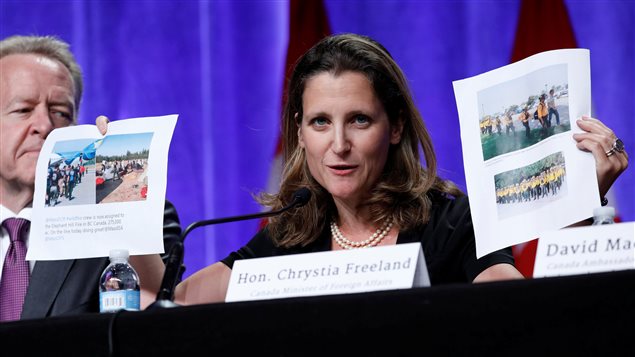 Canada's Foreign Minister and lead NAFTA negotiator, Chrystia Freeland, took a swipe at the U.S. position on the need to shrink the U.S. trade deficit.
"Canada does not view trade surpluses or deficits as a primary measure of whether a trading relationship works," she said in her opening statement. "Nonetheless, it's worth noting that our trade with the U.S. is balanced and mutually beneficial."
Freeland reiterated Canada's objectives in a renegotiated NAFTA, including ensuring it serves as an engine for economic growth and jobs, to cut red tape for business and to make the deal more progressive for labour, the environment, gender equality and Indigenous rights.
"Good fundamentals lead to good results, and that is what I am confident we will achieve," she said in remarks delivered in English, French and Spanish.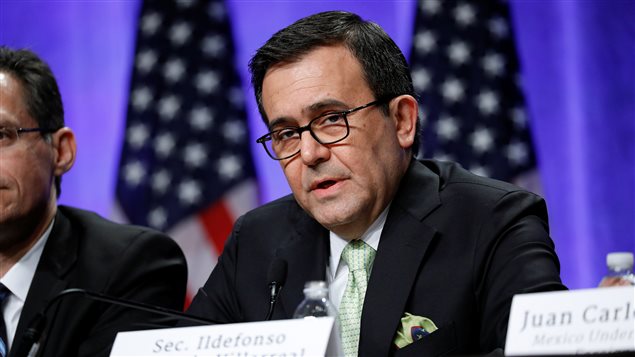 Mexican Economy Minister Ildefonso Guajardo said the aim of the talks should be to tear up NAFTA, but to forge a stronger deal.
"The issue is not tearing apart what has worked, but rather, how we make our agreement better," he said. "For a deal to be successful, it has to work for all parties involved. Otherwise, it is not a deal."
With files from CBC News and Reuters