Calgary, the largest city in Alberta, has undergone a transformation that has changed the night from orange to blue.
After replacing 80,000 street lights with new LED bulbs the city expects to save $5 million (Cdn) a year in electricity costs.
Completed a year ahead of schedule, the project cost $32 million (Cdn).
Another advantage with the LED bulbs is the reduction of light pollution.
Observed from space
#GoodMorning #Calgary and all my friends in #Canada! #YearInSpace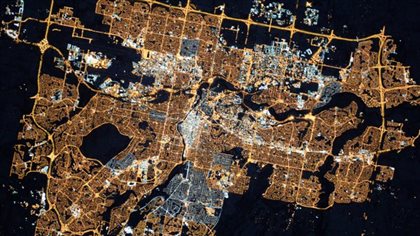 The LED bulbs light a more narrow area, concentrating on the streets and sidewalks below, instead of radiating out and upward.
Troy McLeaod, the city roads director, told CBC News, that the money saved will go into improving streetlight infrastructure, including light poles and underground wires.
Calgary, one of the younger cities in Canada, has about 90,000 streetlights with underground wiring that is more than 50 years old.
The 10,000 remaining lights are more decorative fixtures and need more specialized fixtures.
Astronaut Scott Kelly,an avid observer, tweeted a photo of the city from orbit  in November 2015 that showed the transition in progress.
Scott Kelly is now back on earth. He's the astronaut who has a twin brother, Mark, that is allowing NASA to do more in depth study on the effects of orbit in their Twins Study.
Scott Kelly and cosmonaut Mikhail Kornienko were the first-ever to fly a yearlong mission aboard the International Space Station (ISS)
And Kelly, who credits Tom Wolfe's book, 'The Right Stuff' with his direction in life, has his own book about his experiences in space, coming out in October.  It's called Endurance.