A major cleanup operation is underway after severe thunderstorms and possibly a tornado ripped through southern Quebec, Montreal and the Laurentian region on Tuesday.
There were no serious injuries reported as a result of the storm, which produced winds of up to 100 km/h, according to Environment Canada.
Particularly hard hit was Montreal's Notre-Dame-de-Grace neighbourhood, where hurricane-force winds knocked down decades-old trees, toppling them over cars parked on the streets, causing property damage and cutting power to tens of thousands of customers in the area.
Montreal firefighters, crews from electrical the utility, Hydro-Quebec, and public works employees from the borough and other parts of the city, worked through the night and into the morning to remove debris.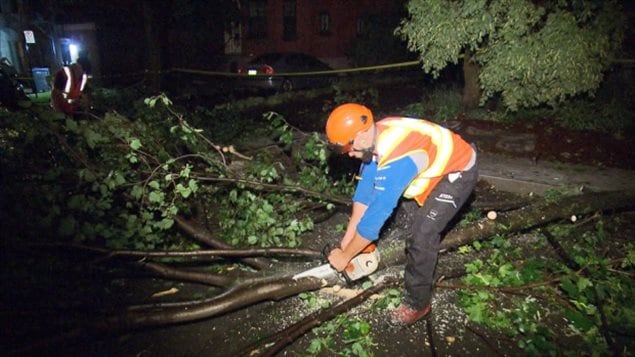 Richard Liebmann, deputy director of the Montreal fire department, said the power has been turned off in the area for safety reasons.
"It's an exceptional weather event," said Liebmann.
Meteorologist Amelie Bertrand told The Canadian Press
Wednesday
a team dispatched to Lachute confirmed an EF-1 tornado with winds reaching up to 175 km/h struck in the town about 85 kilometres north of Montreal.
Bertrand said an EF-1 tornado can cause wind gusts ranging from 135 to 175 km/h, placing
Tuesday's
tornado at the higher end of the scale. Observers saw roofs ripped from homes, siding torn from buildings and trees uprooted.
@meteomedia tornade à Lachute pic.twitter.com/V1s60I5vuj

— bruno langevin (@burnweiser) August 22, 2017
Lachute officials said in a statement the tornado struck at about 
6:15 p.m.
, affecting about 300 residences and forcing 40 people from their homes. There were no serious injuries.
The tornado was the sixth reported so far this year in Quebec.
"Usually Quebec has about six tornadoes per summer, so it would be right at the mean," Bertrand told The Canadian Press. "It doesn't mean we won't get other severe thunderstorms later in August or September, because
the season extends from May to September."
NDG Borough mayor Russell Copeman tweeted today that a microburst cut a swath through a 20-block section of the area, knocking down numerous 100-year-old trees and decimating a popular local park.
South eastern part of #NDG Park this morning. Heartbreaking. #polmtl pic.twitter.com/Mv8kytiZBb

— Russell Copeman (@racopeman) August 23, 2017
Hydro-Quebec says 115,000 customers lost power at its peak and about 23,500 remain without power as of Wednesday morning. The utility said it expects to restore power to the majority of customers by the end of day.
However, in some parts of the city the damage to the network is so severe, crews have to rebuild it from the scratch, the utility said.
With files from The Canadian Press and CBC News