Recently, the Calgary Airport Authority had to quickly backtrack on a parking lot decision that led to protests.
Calgary is the largest city in the prairie province of Alberta, just slightly bigger than the provincial capital Edmonton, and has the fourth busiest airport in the country.
Recently they signed a marketing deal with luxury car manufacturer Lexus to provide prime "exclusive" parking for Lexus owners as a way to generate more revenue for the airport authority.
The trouble is that they converted spaces for disabled persons into the exclusive luxury spots.
A family who uses the disabled spots were surprised to find the usual accessible spots were now reserved for the luxury car owners.
That resulted in a complaint and embarrassing media exposure.
The airport quickly apologized for the gaffe and said it would revert the spots back "asap".
Lexus for its part also apologized noting that it was in no way responsible for choosing the spots and had requested the airport revert the handicapped spots.
Grocery shopping and new moms
Another parking gaffe happened at the eastern end of the country in the maritime province of Prince Edward Island.
A young father pulled into a Sobey's grocery store with his 9-month old baby, The store had recently created convenient reserved parking for new parents and he and his wife had used it previously.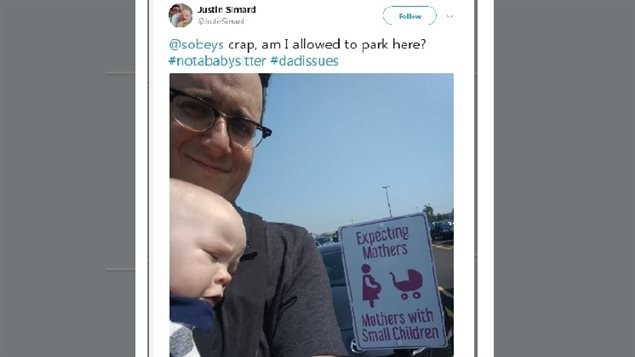 However, when he parked and got out of the car, he said another store client gave him a very disapproving look, until he pulled the baby out of the car. That's when he noticed the actual sign was not for new parents but rather for "Mothers with children".
Quoted in the Canadian Press he said," "It just seems a little silly that it's gendered in that way. I know that as a man, it's weird to be complaining about a sexist policy — I get that. But what about two parents that are fathers? It's not inclusive."
He tweeted to the store asking if he, as a new father, was welcome.
They quickly replied that he certainly was, and added that they were looking into the matter of signage.
Additional information-sources
CBC: Aug 21/17: Airport parking botched
http://www.cbc.ca/news/canada/calgary/airport-parking-lexus-mosley-calgary-reserved-disabled-1.4255651
Canadian Press (Calgary Sun): L Krugel Aug 22/17: parking reversal
http://www.calgarysun.com/2017/08/22/calgary-airport-apologizes-after-moving-accessible-parking-spots-for-lexus-promotion
Canadian Press (National Post): A Thomson: Mothers only parking
http://nationalpost.com/news/canada/mothers-only-parking-spots-dont-consider-modern-families-new-dad-says
CBC: C MacKay: Aug 22/17:  What about Dad?
http://www.cbc.ca/news/canada/prince-edward-island/pei-sobeys-expecting-mothers-1.4257096