Officials in Ottawa are putting the finishing touches on preparations to host Jordan's King Abdullah II who is expected to arrive in Canada on a state visit on Aug. 27.
"It is a great honour to once again welcome His Majesty King Abdullah II to Canada," Governor General David Johnston said in a statement announcing the royal visit. "I had the distinguished pleasure of greeting His Majesty to Canada during his State visit in 2015, as well as meeting him again during my State visit to Jordan in 2016."
Jordan's newly appointed ambassador to Canada, Rima Alaadeen, said the king will also meet with Prime Minister Justin Trudeau and other members of cabinet during his three-day stay in Canada.
The visit is another opportunity to deepen the growing multifaceted relationship between the two countries, Alaadeen said.
'Natural partner'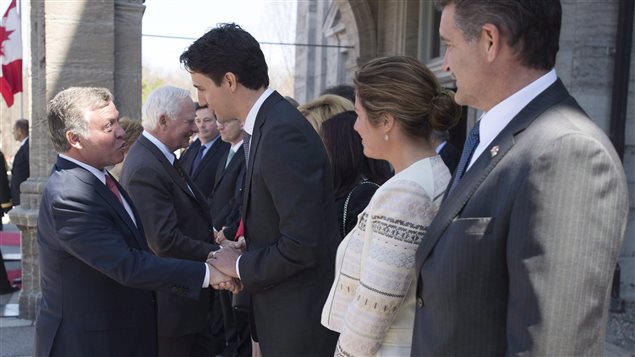 "As a moderate Arab state with a constructive foreign policy on key regional issues, Jordan is a natural partner for Canada and an effective interlocutor between the Arab World and the West," says a statement by the Canadian embassy in Jordan.
Canada and Jordan have shared interests on matters such as trade, landmines, peace-keeping operations, and the protection of civilians and denunciation of all forms of terrorism, the statement says.
In fact, when it comes to peacekeeping Jordan far outshines Canada. According to the latest UN numbers, Jordan currently has 1,012 peacekeepers deployed on UN peacekeeping missions around the world, while Canada has only 88.
Jordan is the first and so far the only Arab country to have a free trade agreement with Canada, Alaadeen said.
"Both sides are also working to strengthen our people-to-people links and bridging that geographical divide that separates us," Alaadeen said. "We're moving forward with a very rich agenda on all topics: trade, economy, defence and development."
(click to listen to the full interview with Rima Alaadeen)
Listen
Growing trade
While the overall volume of trade between Canada and Jordan is still rather modest, it has nevertheless tripled since the signing of the Canada-Jordan Free Trade Agreement in 2009 (the FTA came into force in 2012), Alaadeen said.
According to Global Affairs Canada, Canadian exports to Jordan were valued at $89.7 million in 2015, while imports from Jordan stood at $77.3 million.
The largest Canadian investment in Jordan is Potash Corp. of Saskatchewan's stake in the Arab Potash Company.
'Excellent political relations'
The two countries also enjoy "excellent political relations," said Alaadeen.
"Canada and Jordan continue to work on very important issues that are not only on the bilateral level but also of global magnitude, like trying to maintain peace and security not only in our region but also globally," Alaadeen said.
Jordan and Canada are members of the anti-ISIS coalition and the two countries continue to work together to address the tragic consequences of the wars in Syria and Iraq, the ambassador said.
Helping Jordan to deal with Syrian refugee crisis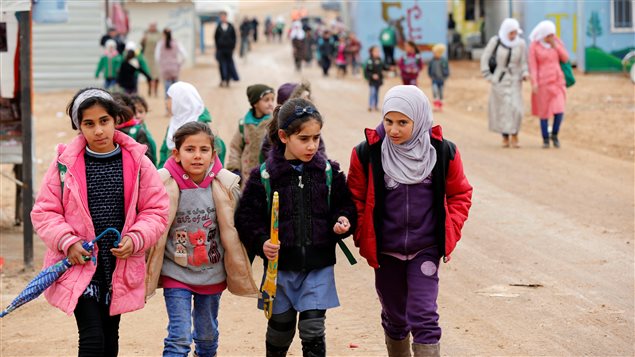 Jordan, which borders both Syria and Iraq, has received at least 1.3 million refugees.
"That's the equivalent of 21 per cent of our population," Alaadeen said. "In comparison with Canada that's as if Canada would receive seven million, they would show up on their shores in one day."
Only a small fraction of Syrian refugees live in refugee camps, more than 85 per cent of them live in Jordanian cities, towns and villages, putting a huge pressure on the already overstretched public services, she said.
"We're talking here healthcare, we're talking education, we're talking employment opportunities, as well as commodities and services like employment, like housing, like water management," Alaadeen said. "And given that Jordan is the second poorest country in terms of water resources you can imagine the challenges we are facing."
As part of Canada's new strategy to address the ongoing crises in Syria and Iraq, announced by Trudeau in 2016, Ottawa has offered Jordan bilateral development assistance to help it achieve long-term objectives in education, economic growth, municipal governance and help in dealing with the refugee crisis.
"We thank Canada for contributing around $220 million dollars over the next three years to help us meet the growing basic needs of Syrian and Iraqi refugees," Alaadeen said. "Therefore, it is very important that Canada continues to support the resilience plans projections for 2017 to 2019."