There are reports that Prime Minister Justin Trudeau is preparing to apologize for one of the darkest moments in Canadian history–a 1939 government decision to turn away a boat of asylum-seeking German Jews.
Citing unnamed sources in Ottawa, the Canadian Press news agency says that work to formalize the apology is in the final stages.
What remains is when and where it will be delivered.
Many thought Trudeau might issue the apology Wednesday at the inauguration of the National Holocaust Monument in Ottawa.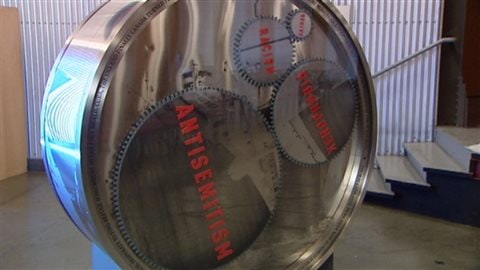 However, he made only passing reference to Canada's refusal to let the MS St. Louis with 900 Jewish refugees aboard make port in Halifax, Nova Scotia.
"May this monument remind us to always open our arms and hearts to those in need," Trudeau said.
Ottawa refused and the ship returned to Europe where passengers dispersed to Belgium, France, the Netherlands and the United Kingdom
As the Nazis overran Europe, many of the refugees fell into harm's way.
Many survived the atrocities of the Second World War war, but many others were sent to concentration camps where 254 of the passengers perished.
A memorial monument, The Wheel of Conscience, was created by the celebrated Polish-born American architect Daniel Libeskind and unveiled at Pier 21, Canada's national immigration museum in Halifax in 2011.
For some perspective on the apology, what it might mean and Canada's 1939 refusal to let the ship land, I spoke by phone with Montreal-based filmmaker Eric Scott, whose film Je me souviens focused on the memory of fascism and anti-semitism in Quebec in the 1930s.
Listen
With files from Canadan Press, CBC, Postmedia, Huffington Post, Global News,