Quebec entertainment scene rocked by two scandals.
In the wake of vast media attention of the alleged abuse by Hollywood film producer,Harvey Weinstein, comes claims of misconduct against two major media personalities in Canada.
First came allegations of inappropriate conduct against Quebec star Eric Salvail, This was more in the nature of lewd behaviour and unwanted advances, but there have been no accusations of  sexual abuse or assault as in the American situation.  Nevertheless, the news has sent shock waves throughout the Quebec entertainment milieu.
Little known outside the mainly French-speaking province, Salvail is a media sensation there where he is known as a very popular TV host, radio host, and producer of several TV shows.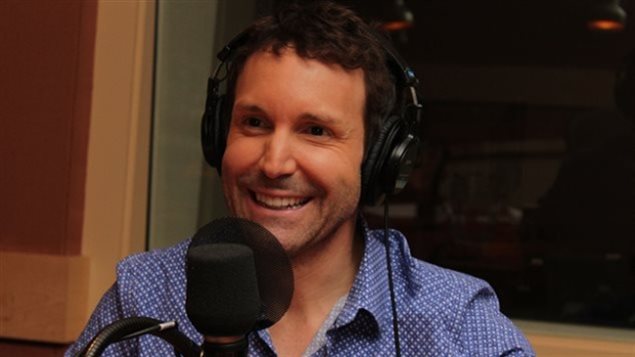 Now, several people have come forward claiming a variety of inappropriate behaviours by the Quebec star over the years.
At least one said he came forward as a result of the coverage of the Weinstein affair.
As a result of the allegations by some 11 people, unproven in court, Salvail has withdrawn from his public appearances, and his shows suspended.
The French-language public broadcaster, Radio-Canada, has broadcast several of his productions. In a brief press release Radio-Canada says, "Considérant que les allégations concernant les inconduites de Monsieur Éric Salvail sont graves et doivent être prises très au sérieux, Radio-Canada réévalue ses liens d'affaires avec l'animateur et producteur. Des décisions à ce sujet seront prises selon l'évolution de la situation."  ( Considering that the allegations concerning Mr Eric Salvail are serious and should be taken as such, Radio Canada is re-evaluating its business association with the host and producer. Other decisions on this matter will be taken as the situation evolves)
Several other of his business ventures have also temporarily dissociated themselves from the star until such time as the allegations of inappropriate conduct are clarified.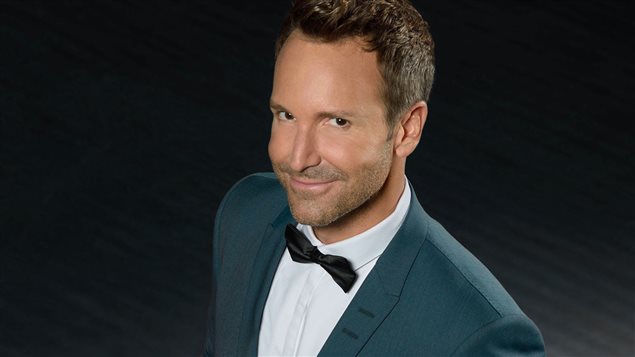 The scandal doesn't stop there however.
Following quickly on the heels of the Salvail situation, allegations against internationally-known producer Gilbert Rozon have surfaced. Rozon is the founder and long-time driving force behind the world-renowned Montreal Just for Laughs Festival.
Several women now have come forward claiming experiences of harassment, abuse and sexual assault by the producer.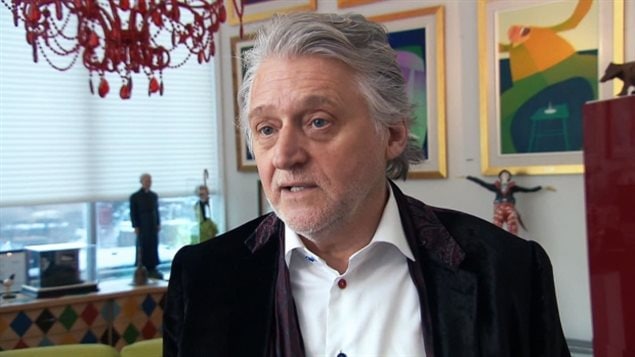 Rozon pleaded guilty in 1998 to fondling a 19-year-old woman and was fined and put on probation, but one year later was given an unconditional discharge. The judge at the time said having a criminal record could prevent him from travelling internationally affecting his business – the festival- and as such, Montreal's economy.
Rozon announced on Facebook that he has quit the Just for Laughs company, and resigned as a commissioner of the Montreal 375th anniversary committee, as well as leaving his position as vice-president of the Montreal Chamber of Commerce.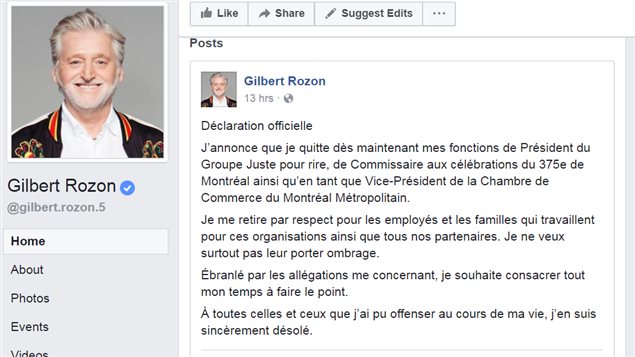 In his post written in French he said in a loose translation, ""I am resigning out of respect for the employees and the families that work for these organizations as well as all our partners".
He added, "Ébranlé par les allégations me concernant, je souhaite consacrer tout mon temps à faire le point.  À toutes celles et ceux que j'ai pu offenser au cours de ma vie, j'en suis sincèrement désolé" again translated as, "Shaken by the allegations against me, I want to dedicate all my time to review the matter. To all those who I may have offended in my life, I'm sincerely sorry".
To date, all allegations against both men remain unproven.
Additional information- sources