The winners in the annual World Wildlife photo competition were announced this week by the Natural History Museum in London, England
The grand prize winner was Brent Stirton of South Africa.  His image of a dehorned Black Rhino, killed by poachers in South Africa's Hluhluwe Imfolozi Game Reserve, was chosen from among almost 50,000 submissions from around the world. The winning images are selected for their creativity, originality and technical excellence.
The press release said, "Stirton's image exposed the tragic consequences of the illegal international trade in rhino horns".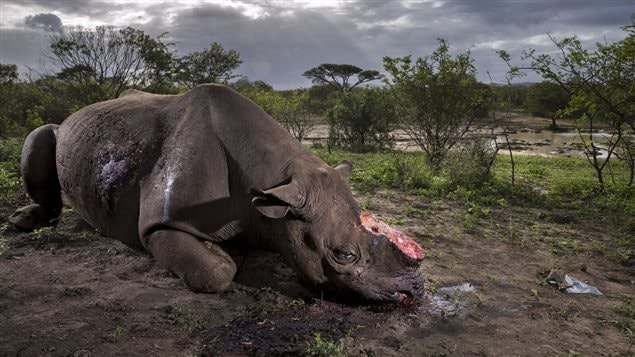 The photo is entitled "Memorial to a Species" . The story with the photo goes on to say the killers were probably from a local community. Entering the Hluhluwe Imfolozi game reserve at night, they shot the black rhino bull using a silencer. Working fast, they hacked off the two horns and escaped. The horns would have been sold to a middleman and smuggled out of South Africa to China or Vietnam.
Richard Sabin, is the Museum's Principal Curator of Mammals,
He says, 'The Wildlife Photographer of the Year competition isn't just about beautiful images and technical ability – it is also about provoking and stimulating debate about international conservation issues. This image is difficult to look at, but what it shows is an inescapable part of the human exploitation of the natural world".
Stirton's image will be among the 100 photographs showcased in the world-renowned Wildlife Photographer of the Year exhibition, which will be on display at the Royal Ontario Museum (ROM) in Toronto Ontario, from Saturday, December 16, 2017 to Sunday, March 18, 2018.
A photographer from the Netherlands, Daniel Nelson, was a winner in the 15-17 year old category, and name Young Photographer of the year for his photo of Coco, a  young gorilla in the Republic of Congo in the Odzala national park. The photo shows Caco feasting on a fleshy breadfruit. He is about nine years old and preparing to leave his family. Western lowland gorillas are critically endangered, threatened by illegal hunting for bushmeat, disease (notably the Ebola virus), habitat loss and the effects of climate change.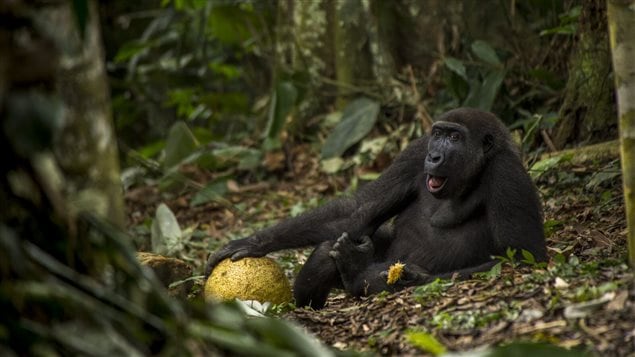 Canadian Josiah Launstein, from Pincher Creek, Alberta, was also recognized in the 11 to 14-year-old category for his photo "The hairy raincoat".  The closeup of a caterpillar was taken by him crouching down to silhouette the caterpillar against the bright, overcast sky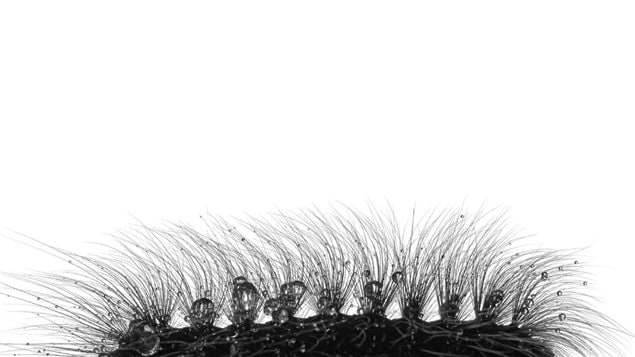 He described the photo saying, "'It rains a lot in Thailand in the summer. I love how the water drops and hair clusters make it look like water is squirting out of it like little fountains".
The 12-year-old photographer made his Wildlife Photographer of the Year debut as a finalist in 2015 with two entries in the 10-year old and under category.
Additional information- sources