Prime Minister Justin Trudeau added his voice to those of the United States, the United Kingdom, France, Germany and the European Union, reaffirming his support for "one united Spain" Friday in response to the Catalan regional parliament's unilateral declaration of independence.
"Canada recognizes one united Spain," Trudeau said in Saint-Bruno-de-Montarville, just east of Montreal.
"We understand there are significant internal discussions that they are going through right now and we simply call for those discussions to be done according to the rule of law, according to the Spanish constitution, according to the principles of international law.
"But mostly that those conversations and discussions happen in a peaceful, non-violent way."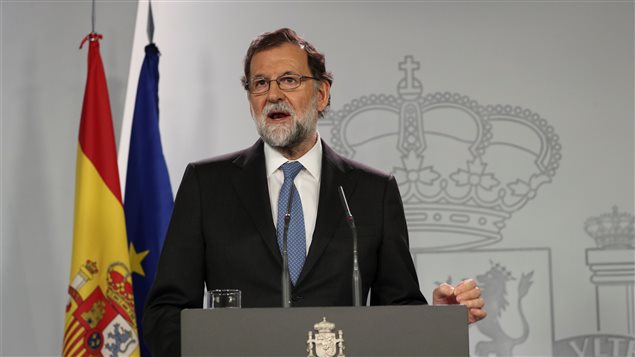 In response to Friday's independence motion in Barcelona, Spanish Prime Minister Mariano Rajoy  dissolved the Catalan parliament and called snap local elections.
The government in Madrid also fired Catalan leader Carles Puigdemont along with his entire cabinet and the Catalan police chief.
Rajoy said the unprecedented imposition of direct rule on Catalonia was essential to "recover normality."
"Today, the Catalonia parliament has approved something that in the opinion of a large majority of people not only goes against the law but is a criminal act," Rajoy declared.
The crisis began when Catalan leaders held an independence referendum, defying a ruling by the Spain's Constitutional Court which had declared it illegal.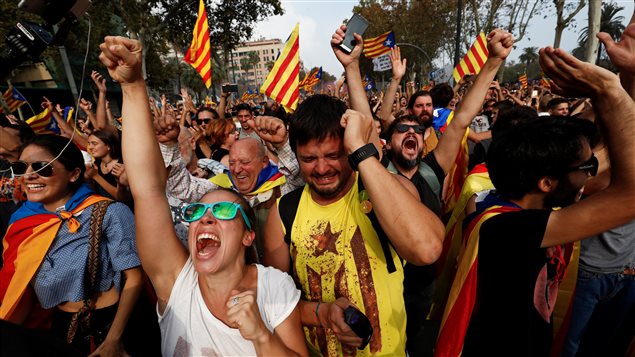 The Catalan government said that of the 43 per cent of potential voters who took part in the plebiscite, 90 per cent were in favour of independence. However, a large portion of voters opposed to independence boycotted the vote after the court ruling.
The leader of the separatist Bloc Quebecois, Martine Ouellet, called on Ottawa to recognize Catalonia's independence.
"Canada has recognized many-many countries since the creation of the United Nations and there is really no reason for not recognizing the new Catalonia country, which will become the 194th country of the United Nations," Ouellet told CBC's Power & Politics program.
The Quebec separatist leader said Canada doesn't shy away from "giving lessons" to countries in Africa, Asia or South America that have seen violence erupt after contested votes.
"And then, all of a sudden, because it's happening in Europe, (Canada) wants to protect the status quo?" Ouellet asked. "It's troubling."
With files from The Canadian Press and CBC News