Remembrance  Day, the day to pause and remember the fallen soldiers of wars and conflicts, is November 11th. That was the day the Armistice was signed to effectively end the First World War.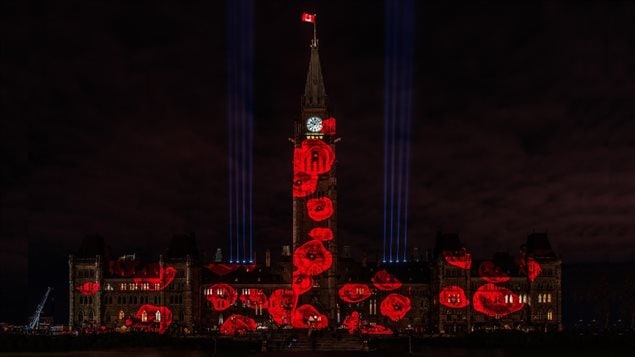 But there are a series of events leading up to that day, and those events have started in Canada with the "poppy drop".
Images of the iconic red poppy will be projected on the Victory and Peace Tower and Centre Block of Canada's Parliament buildings in the national capital, Ottawa.
The poppies will start at the top, and slowly float down, some 117,000 images will be projected in the evenings leading up to November 11.
Each poppy will represent the 117,000 Canadian lives lost in wars and conflicts since the beginning of the First World War.
"It is an inspiring visual memorial to all of our fallen," says David Flannigan, Royal Canadian Legion Dominion President. "Over the coming days we hope Canadians and visitors alike will stop and take a moment to remember and to think of the freedoms they enjoy in Canada," he says.
The event starts each evening at 6;30 PM and continues until 9.30 PM (18:30-21;30);
The Dominion Carillonneur Dr. Andrea McCrady  will play "The Last Post" on the Peace Tower bells before the first Poppy falls.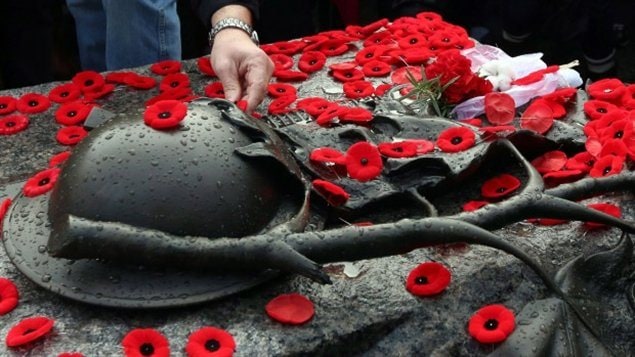 The display also features two large screens highlighting pictures of fallen Canadian soldiers. People from across the country submitted pictures for this Virtual Wall of Honour.
The event can be watched online on the Royal Canadian Legion's Facebook page (HERE) 
This is the second year for the event which was received with great appreciation by Canadians last year.