A wildlife advocacy group has taken the government court for the killing an apparently orphaned bear cub in British Columbia.
Tiana Jackson found the animal by the side of the road near Dawson Creek in May 2016. She called the government's conservation officer service and then took the cub to her property and placed it in a pen for dogs.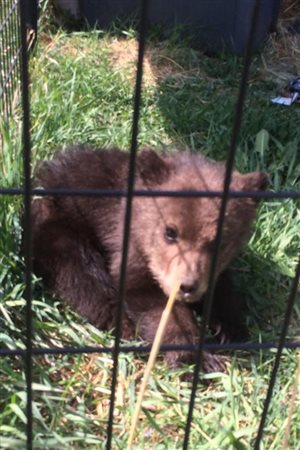 A home for the cub was found
Jackson says she told Officer Micah Kneller that she had found a licensed rehabilitation centre that would accept the cub, but that he killed the cub anyway. The non-profit Association for the Protection of Fur-Bearing Animals (The Fur-Bearers) took up the case and went to court with Jackson to argue that Kneller acted illegally.
Their lawyer said that the province's Wildlife Act prohibits the killing of animals unless they pose a threat. The province countered that the law gives officers great latitude to destroy animals. In its defence, it said the decision to kill the bear was made because it was not suitable for captive rearing and release.
There have been previous complaints about conservation officers killing bear cubs rather sending them for rehabilitation and wildlife advocates are watching this court case with keen interest.
With files from Canadian Press.