The federal government will match $12.5 million donated by ordinary Canadians to charities that are assisting hundreds of thousands of Rohingya refugees who have fled from Myanmar to Bangladesh to escape what the United Nations has called "a textbook example of ethnic cleansing."
This means that the UN agencies and humanitarian groups working to deal with the influx will get more than $25 million in total to meet their funding needs.
The brutal crackdown against the Muslim minority in the majority Buddhist Myanmar, also known as Burma, has resulted in the influx of more than 625,000 Rohingya refugees into Bangladesh since Aug. 25, 2017, the majority of them women and children.
This is in addition to an estimated 300,000 Rohingya who had previously sought refuge in Bangladesh in previous waves of violence since the early 1990s.
The federal government launched the Myanmar Crisis Relief Fund at the end of October, promising to match dollar for dollar every donation made by Canadians to eligible charities by Nov. 28.
Donor fatigue?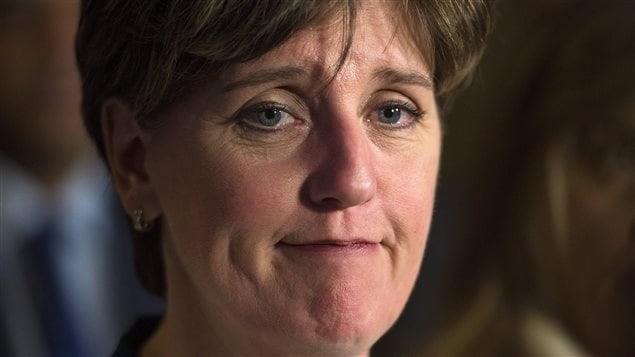 Canada's equivalent contribution of $12.55 million will be allocated to experienced humanitarian agencies providing life-saving and gender-sensitive humanitarian assistance to those who are living in camps and settlements in Bangladesh or are displaced within Myanmar, Minister of International Development Marie-Claude Bibeau announced Wednesday.
This brings the federal government's overall humanitarian response to this crisis to more than $37.5 million and strengthens Canada's position as one of the top donors in this humanitarian response, said Bibeau who got a chance to visit the Rohingya refugee camps in the Cox's Bazar area, during her visit to Bangladesh in November.
"Canadians continue to show themselves to be generous and compassionate people," Bibeau said in a statement. "Their contributions will help our partners respond to the increasing humanitarian needs in Myanmar and Bangladesh with a strong focus on meeting the particular needs of women and girls, who have faced the greatest impact of this crisis."
However, the funding drive appears to show growing donor fatigue among Canadians.
In comparison, between September 2015 and February 2016, Canadians donated a total of $31.8 million to the Syria Emergency Relief Fund to support humanitarian relief efforts in response to the conflict in Syria.
Funding gap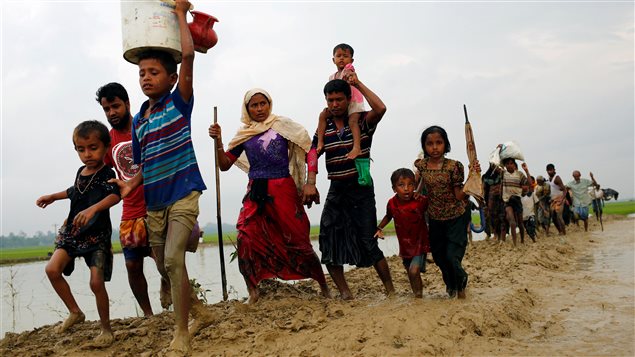 The UN has appealed for $434 million, including some $76.1 million to address the immediate needs of newly-arrived Rohingya children, as well as those who arrived before the recent influx, and children from vulnerable host communities.
However, a ministerial-level pledging conference held in Geneva on Oct. 23 raised only $344 million.
The international agencies working in Bangladesh and Myanmar lack the necessary resources to meet the needs of the Rohingya refugees and the host communities in Bangladesh, said Jean-Jacques Simon, a Canadian working as the spokesman for UNICEF in Bangladesh.
The $25 million contributed by ordinary Canadians and the federal government will make a dent in that funding gap.
Every dime helps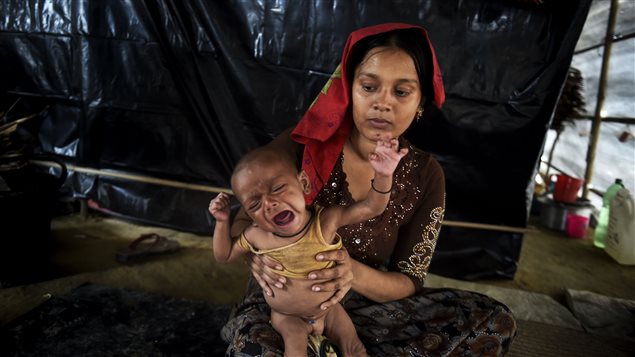 Still, members of the Humanitarian Coalition, an umbrella group of seven Canadian NGOs, said they were thankful for Canada's generousity.
"When I visited the camps last month, I was particularly struck by the situation of women and girls. Many of them were injured and traumatized, having witnessed and experienced unspeakable violence and sexual assault," said Brittany Lambert, Women's Rights Policy Specialist with Oxfam Canada, a member of the Humanitarian Coalition.
"Even after they arrive in the relative safety of the camps, women are vulnerable to violence. However, despite all they have been through, refugees I talked to showed incredible strength and resilience. Today's announcement means more aid will be available and therefore more lives will be saved."