Unions representing Bombardier workers in both Canada and Northern Ireland called today's Montreal meeting with the company's CEO "positive" in light of U.S. plans to impose a heavy tariff on C-series planes. The Unifor and Unite unions have joined forces vowing to protect good jobs a Bombardier.
The U.S. Department of Commerce is expected to impose a 300 per cent anti-dumping countervailing duty on the jets on December 19th. The U.S. airplane manufacturer Boeing had complained bitterly that a sale of the C-series jets to Delta was unfairly subsidized by the governments of Canada, the province of Quebec and Britain .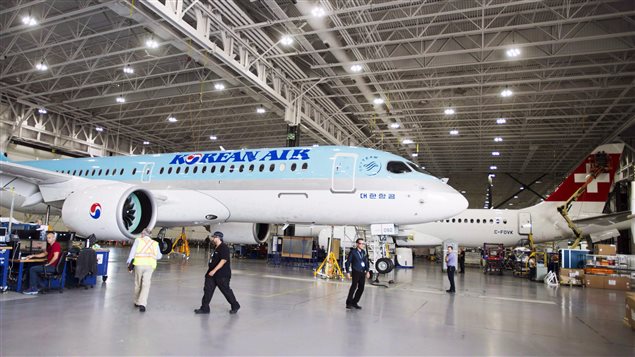 No reprieve expected
The unions doubt the U.S. will change its mind about imposing the duty. If passed it will likely be appealed to the World Trade Organization where the dispute could take months or years to resolve. Canada would also have the option of appealing under the North American Free Trade Agreement which the U.S. has already said is unfair and is in the process of renegotiating.
Jets can be marketed elsewhere
The European company Airbus has become a majority shareholder of the C-series program and that will make it easier to market the jets in Asian markets. This has reassured Unifor's leader that the U.S. penalties will not have a negative impact on the Bombardier plant in Quebec, reports Canadian Press.
Bombardier is one of Canada's largest employers with more than 24,000 workers. There are an estimated 40,000 spin-off jobs with sub-contractors. There are an estimated 4,200 workers in Northern Ireland producing C-series wings. Union representatives told Canadian Press that more than half of the plane's components are made in the U.S. generating about 22,000 jobs.