It's something we've seen before and will–most assuredly–witness again across Canada–another newspaper leaving another black hole on the local newstand shelf.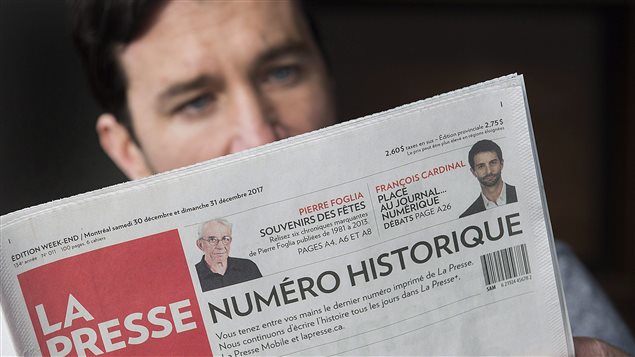 After 133 years, Montreal's heritage French-language newspaper, La Presse, published its final print edition on Saturday.
Two years ago, La Presse dropped its weekday print editions in favour it's tablet edition, which the paper says is read by 273,000 tablet users daily.
Tablets may be more convenient, of course, but there are little losses that one my endure–a bit of conversation with the newstand guy or–my case–a shout-out to a burly middle-aged named Monsieur Servant, who had the arm of an all-star quarterback and possessed the uncanny ability to deliver my paper right to the door on my front balcony–three stories up.
The force of atomization, ii appears, is relentless.
In a special message on Saturday, La Presse president Pierre-Elliot Levasseur said the decision to go completely digital was not taken "lightly."
"We have to turn to more modern ways," he wrote.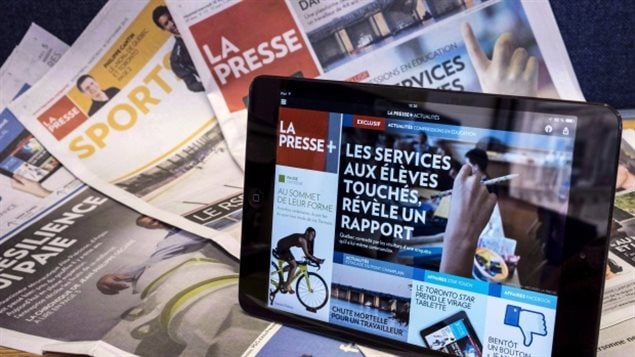 Newspapers across the world have had adapt to the Internet, which has cut into circulation as well as advertising, especially classified advertising, long a staple of a healthy newspapers
According to La Presse's vice-president of communications, Caroline Jamet, advertising revenue has dropped 60 per cent over the past decade.
"Paper is extremely rigid," says Eric Trottier, La Presse's assistant editor and vice-president, told the CBC.
"If there's a major event overnight, whether it's the overthrow of an African leaders, or an outbreak of war, or the death of someone important, or simply a Canadiens match in the West, we can make a second edition for 12:30 a.m. or even 12.35 a.m.
"But if it's later than that, we have penalties."
La Presse's writers and artists, Trottier says, are now free to work late into the night.
La Presse was founded in 1884 by conservatives who were dissatisfied with then-prime minister John A. Macdonald.
It is currently owned by Power Corporation, an international management and holding company that is headed by the Demarais family.
The departure of the La Presse's print edition leaves three Montreal dailies still publishing weekday and weekend editions–the tabloid Le Journal de Montreal, the intellectually-bent Le Devoir and the English-language general-interest paper, The Montreal Gazette.
With files from CP, CBC, CTV, Montreal Gazette