The global community will not accept North Korea as a nuclear threat to the world, Canada's Foreign Affairs Minister Chrystia Freeland said Tuesday, urging participants at a multinational meeting in Vancouver to maintain pressure on Pyongyang to force it to abandon its nuclear weapons and ballistic missiles programmes.
The summit, co-hosted by Freeland and U.S. Secretary of State Rex Tillerson, includes the original states involved in the UN command during the 1950-53 Korean War, as well as representatives from South Korea, Japan, India and Sweden.
"Our message to the people of North Korea is clear: despite the brutal hardships that you face, we know that the foremost threat is the regime," Freeland said.
The message to the North Korean leadership is also clear, she added.
"The pursuit of nuclearization will bring you neither security nor prosperity," Freeland said.
Investing in nuclear weapons will lead to only more sanctions and to perpetual instability on the Korean Peninsula, she warned.
"The states represented at this meeting harbour no hostility to North Korea, on the contrary we seek neither a regime change nor a collapse," Freeland said. "We're working to resolve this crisis and are aiming for what is in our collective best interest – security and stability on the Korean Peninsula and throughout the world."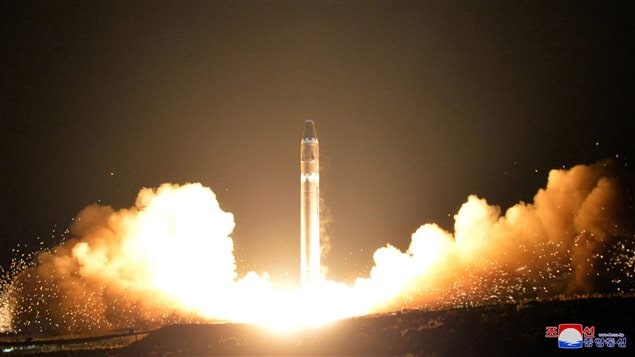 The entire international community has joined forces in telling the regime in Pyongyang that it will not accept North Korea as a nuclear state, Tillerson said in his opening remarks at the one-day summit.
"We must increase the costs of the regime's behaviour to the point that North Korea must come to the table for credible negotiations," said Tillerson."The object of negotiations if and when we get there is the complete, verifiable and irreversible denuclearization of North Korea. All nations here today are united in that goal."
At one point in his speech Tillerson displayed a Flightradar map showing hundreds of international flights around the Korean Peninsula during one of North Korean missile tests and said Pyongyang has never provided official warnings of its tests and has endangered lives of hundreds of thousands of people.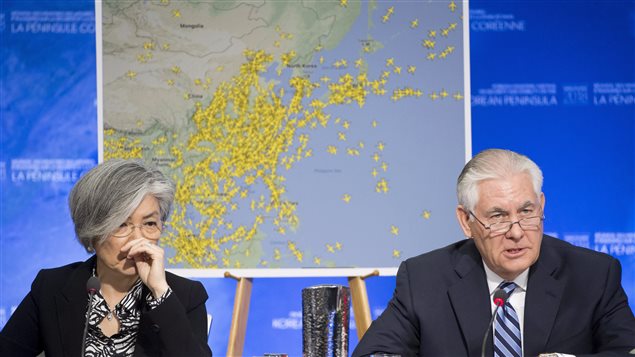 The North Korean threat has many dimensions all of which must be countered, Tillerson said.
"The regime has shown recklessness among the nations of the world," he said. "Based on its actions now, we can see what North Korea may very well do later if it obtains complete nuclear and missile delivery capabilities."
North Korea poses a threat not just for its immediate neighbours and the United States, Tillerson said.
"When we consider that DPRK has avowed strikes on civilian targets, that Oslo is nearer to Pyongyang than Seattle, that London is nearer to North Korea than Los Angeles, that Amsterdam, Ankara, Brussels, Beijing, Paris and Moscow are nearer than New York City, we see a global problem requiring a global solution," Tillerson said.
A permanent and peaceful solution is needed to avert a future crisis, Tillerson said.
"First, we all must insist on a full enforcement of UN Security Council sanctions as this is the letter of the law," he said. "We especially urge Russia and China in this matter."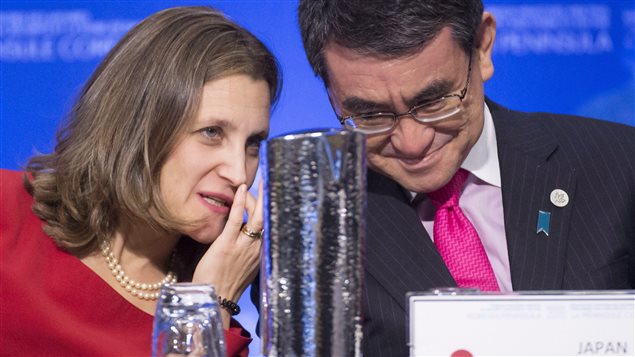 Japan's Foreign Minister Taro Kono said the world should not be naive or blinded by North Korea's "charm offensive" in engaging in talks with South Korea.
"It is not the time to ease pressure or to reward North Korea," he said. "International sanctions have gradually born fruit."
South Korea's Foreign Affairs Minister Kang Kyung-wha said the meeting in Vancouver could not come at a more opportune time as both Koreas jump-started talks earlier in January after several years of hiatus.
The two sides have agreed to cooperate for North Korea's participation in the PyeongChang Winter Olympics and worked together to lower tensions and create a peaceful environment, and resolve all issues through dialogue, she said.
"Despite these overtures to improve relations with the South, North Korea has yet to show any intention to fulfill its international obligations regarding denuclearization," Kang said. "To the contrary North Korea adheres to its state claim of having completed its state nuclear force and now boasts that its ballistic missiles tipped with nuclear warheads can strike anywhere in the United States."
The security threat posed by North Korea's nuclear and missiles program is no longer confined to Northeast Asia but has become truly global, she said.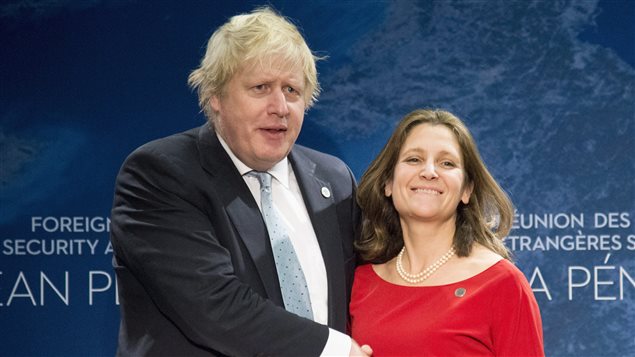 British Foreign Secretary Boris Johnson said there can be no doubt that the crisis on the Korean Peninsula has intensified.
"Everybody can see that the risk is no longer proliferation within the region but also of course transmission of nuclear weaponry to non-state actors, to terrorist groups with unthinkable consequences for the world," Johnson said. "So it's very important and encouraging that the world has not been intimidated or divided by the threat."
However, China and Russia, two of North Korea's immediate and most influential neighbours, are not participating in the meeting in Vancouver.
Both Moscow and Beijing have denounced the meeting, saying it is likely to do more harm than good.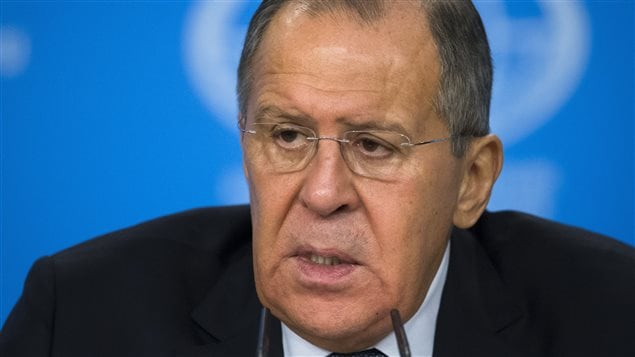 Speaking to reporters in Moscow on Monday Russian Foreign Minister Sergey Lavrov quipped about countries such as Greece, Belgium, Colombia and Luxembourg – which had contributed troops to the UN force in 1950-53 – being invited to the summit in Vancouver as full-fledged participants while Russian and Chinese diplomats were invited just for a briefing after the conclusion of the meeting.
"They participated in that coalition. What's their relation to efforts to resolve the problem of the Korean Peninsula today? What will they do there?" Lavrov asked.
Russia and China have a joint roadmap to resolve the crisis on the Korean Peninsula, Lavrov said.
"For a start we suggest everybody should calm down and freeze any confrontational actions, in the first place, military activities, be it missile launches, nuclear weapons tests or large-scale exercises, which the United States has held and still holds in the region jointly with the Republic of Korea and Japan," Lavrov said.
Tillerson, however, dismissed the idea of "freeze for freeze."
"We reject a 'freeze for freeze' approach in which legitimate defensive military exercises are placed on the same level of equivalency as the DPRK's unlawful actions," Tillerson said referring to North Korea by its official acronym. "The pressure campaign will continue until North Korea takes decisive steps to denuclearize."