Canada is pledging $300 million in foreign aid over the next three years to help the persecuted Rohingya Muslim minority fleeing a brutal campaign of ethnic cleansing in their native Myanmar, Foreign Affairs Minister Chrystia Freeland and International Development Minister Marie-Claude Bibeau announced Wednesday.
Freeland said Canada's response will address four distinct aspects of the situation: the humanitarian crisis facing the Rohingyas in Myanmar and in the refugee camps and host communities in Bangladesh, the political situation in Myanmar, the question of accountability and impunity, and the importance of effective international coordination and cooperation.
These four priority areas were highlighted in the recent report by Bob Rae, Prime Minister Justin Trudeau's special envoy to Myanmar, Freeland said.
However, the funding announcement fell short of the spending target of $150 million a year recommended by Rae.
Bibeau said the Liberal government has to plan not just for the Rohingya crisis but also other crises around the world where Ottawa is asked to contribute.
Canada has already contributed $45.9 million for the Rohingya crisis, Bibeau said.
"With our funding of family planning services, psychosocial support and safe spaces for women and girls Canada has already helped more than 72,000 women receive antenatal care," Bibeau said. "And more than 300,000 women and adolescent girls have received  information and services on sexual and gender-based violence."
No plans for resettlement to Canada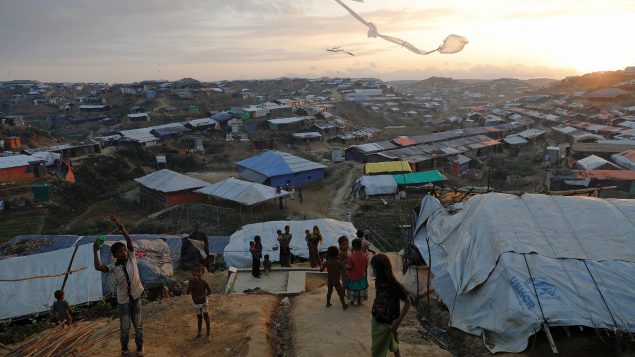 Rohingya refugee children fly improvised kites at the Kutupalong camp near Cox's Bazar, Bangladesh on December 10, 2017. (Damir Sagolj/REUTERS)
Freeland also stopped short of offering the more than 700,000 Rohingya refugees who have fled to neighbouring Bangladesh a resettlement program similar to that organized by the Trudeau government for Syrian refugees in 2016.
Canada will work with other countries and the UN to come up with broad international plan for resettlement, Freeland said, adding that the vast majority of Rohingya refugees in Bangladesh want to return to Myanmar.
Freeland hinted, however, that Canada is considering replicating its successful program aimed at vulnerable Yazidi women, and resettle in Canada some of the most vulnerable Rohingya refugees, survivors of sexual violence who need specialized medical and psychosocial help not available in the camps.
'Textbook case of ethnic cleansing'
Freeland spoke about her own interactions with Rohingya refugees during her recent trip to Bangladesh and the stories she heard from survivors of the brutal crackdown by Myanmar's security forces.
"I agree with the United Nations High Commissioner for Human Rights Zeid Ra'ad Al Hussein, who has described the campaign against the Rohingya as a textbook case of ethnic cleansing and has said that he has strong suspicions that acts of genocide may have taken place in Rakhine state since August," Freeland said.
The government of Myanmar has failed in its duty to protect human rights and to ensure the security and dignity of vulnerable and marginalized people, particularly women and girls, she said.
Canada continues to advocate for unimpeded access to Rakhine state by the UN and international organizations and the voluntary, dignified, safe and sustainable return of refugees with the support of the UNHRC on both sides of the border.
"The Rohingya have the right to return into their homes," Freeland said. "We know, however, that the conditions for the return currently do not exist."
No impunity
The international community must also ensure that those who committed atrocities and human rights violations in Rakhine state, including sexual violence, are brought to justice, Freeland said.
"There can be no impunity for the perpetrators of these horrific crimes," Freeland said. "Canada will lead the call for justice and will work with like-minded countries to explore all avenues for holding perpetrators to account."
Canada is also working with partners on the next steps towards the referral of the situation in Myanmar by the United Nations Security Council to the International Criminal Court, she said.
Welcome news
International humanitarian agencies welcomed the announcement.
David Morley, the president and CEO of UNICEF Canada, said he was very pleased by the three-year funding commitment.
"It's a recognition that this is a humanitarian crisis that it's not going to end between now and tomorrow as much as we wish it would," Morley said.
That allows humanitarian agencies to have more predictable funding, Morley said.
"I think also the fact that they are looking at political issues, as well as the immediate humanitarian response, as the whole response of the government of Canada is very important," Morley said.
"There is no humanitarian solution to a humanitarian crisis like this, you need to have a political solution."
Save the Children CEO Bill Chambers also said he applauds Canada's multi-year commitment to the Rohingya crisis.
"In particular Save the Children is hopeful that this leadership from Canada will help spur increased commitment at the G7 to ensure multi-year funding for this and other protracted crises, helping meet the different and evolving needs of girls and boys, men and women facing conflict, displacement and disaster," said Chambers.