A Saudi Arabian youth group is apologizing after an image it posted on its Twitter account was interpreted by many social media users as a veiled threat of 9/11-style attacks on Canada following the ongoing diplomatic dispute between Ottawa and Riyadh.
The image accompanied by an Arabic proverb in English shows an Air Canada plane heading toward Toronto's landmark CN Tower in a way that is reminiscent of the 9/11 attacks on the Twin Towers in New York City.
A superimposed caption over the image reads, "Sticking one's nose where it doesn't belong
"As the Arabic saying goes: 'He who interferes with what doesn't concern him finds what doesn't please him.'"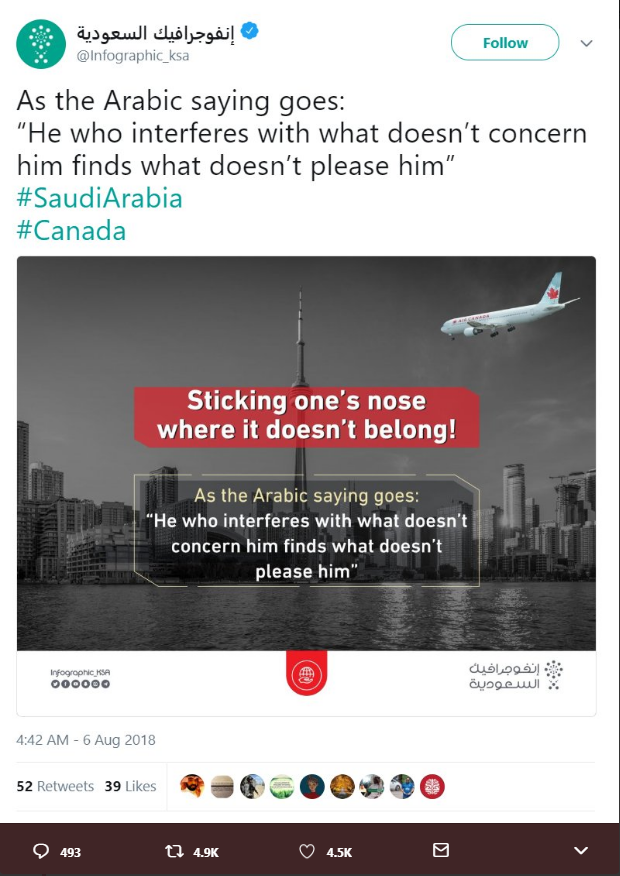 The infographic was posted on the Twitter account of @Infographic_KSA, which bills itself as a "voluntary non-profit project" managed by a "group of Saudi youth who are interested in technology and social media."
Shortly after the image was posted in three different versions with captions in English, French and Arabic, @Infographic_KSA pulled down the tweets and replaced them with an image without a plane in the foreground but with the same message.
The group also immediately apologized for its maladroit tweet, saying the airplane was supposed to symbolize return of Saudi ambassador who has been recalled from Canada.
However, in a sign that Saudi authorities are quite sensitive to any perceived association with 9/11 attacks, the kingdom's ministry of media "has ordered the owner of the account to shut it down until investigations are completed, according to electronic broadcasting laws in KSA."
Based on a complaint filed to the ministery of Media about a post by @Infographic_ksa, the ministry has ordered the owner of the account to shut it down until investigations are completed, according to electronic broadcasting laws in KSA. pic.twitter.com/jD2maoOyEV

— وزارة الإعلام (@media_ksa) August 6, 2018