A new poll found some perhaps not so surprising results regarding cell phone use.
Some 54 per cent of teens asked said they spent too much time on their phones while two-thirds of parents were concerned over their children's use of the phones.
But, the parents as well said they are "too connected" to their phones.
Matthew Johnson is Director of Education at MediaSmarts, Canada's Centre for Digital and Media Literacy, a non-profit organisation based in Ottawa.
Listen
The study was conducted earlier this year by the Pew Reseach Centre, an American think-tank based in Washington D.C. and while it is an American-based study, the findings are likely widely similar to the situation in Canada and perhaps elsewhere.
The study also showed a significant difference between male and female teens when for some reason they did not have access to phones.
While a large number indicated "anxiousness" when not getting access to their phone, there were a significantly greater number of girls than boys who indicated this anxiousness or loneliness.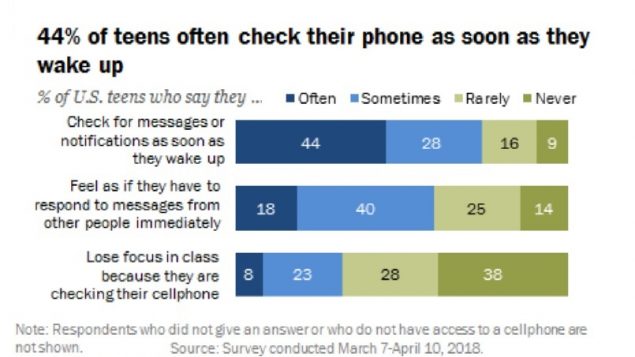 Johnson says this may be in part explained by how phones are used. The study showed a higher percentage of boy played games on their phones than did girls. Some 42 per cent of boys also said they spend too much time gaming on their phones, while only 14 per cent of girls said the same thing.
However, teens also indicated during person to person conversations they thought they and even their parents were "losing focus" because of mobile phone distractions.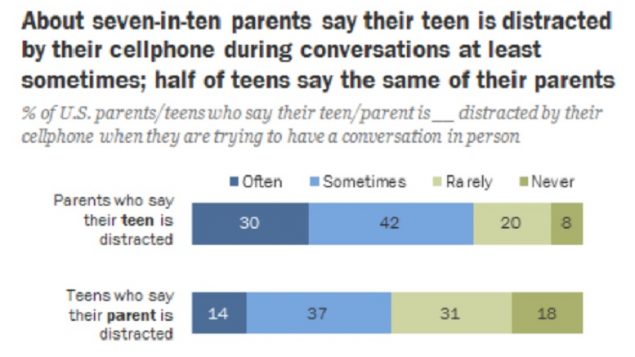 In fact a little under a third of teens said they were distracted by their phones at school, and perhaps surprisingly, some 39 per cent of adults said their phones were a distraction at work.
Matt Johnson says one of the easiest ways to avoid distraction is to look at the various apps on your device and turn off "notifications" if you don't really need immediate notice of something.