The Old Farmer's Almanac was the last almanac standing in 1838, when they added "old" into the name.
"Snowy for the whole country"
When it began in 1792, there were lots of almanacs with advice and tables for the farmers, the mariners and the hunters living in eastern North America at the time.
Jack Burnett is the Managing Editor of the Canadian edition, which has been available for 37 years now, and is growing in popularity each year.
Listen
"We were in Canada even before Confederation"
It's the old fashioned looking booklet Canadians can pick up at a grocery store while waiting in line to check-out, but once you start flipping the pages, it often gets included and brought home for further consultation. And now there's the online edition as well.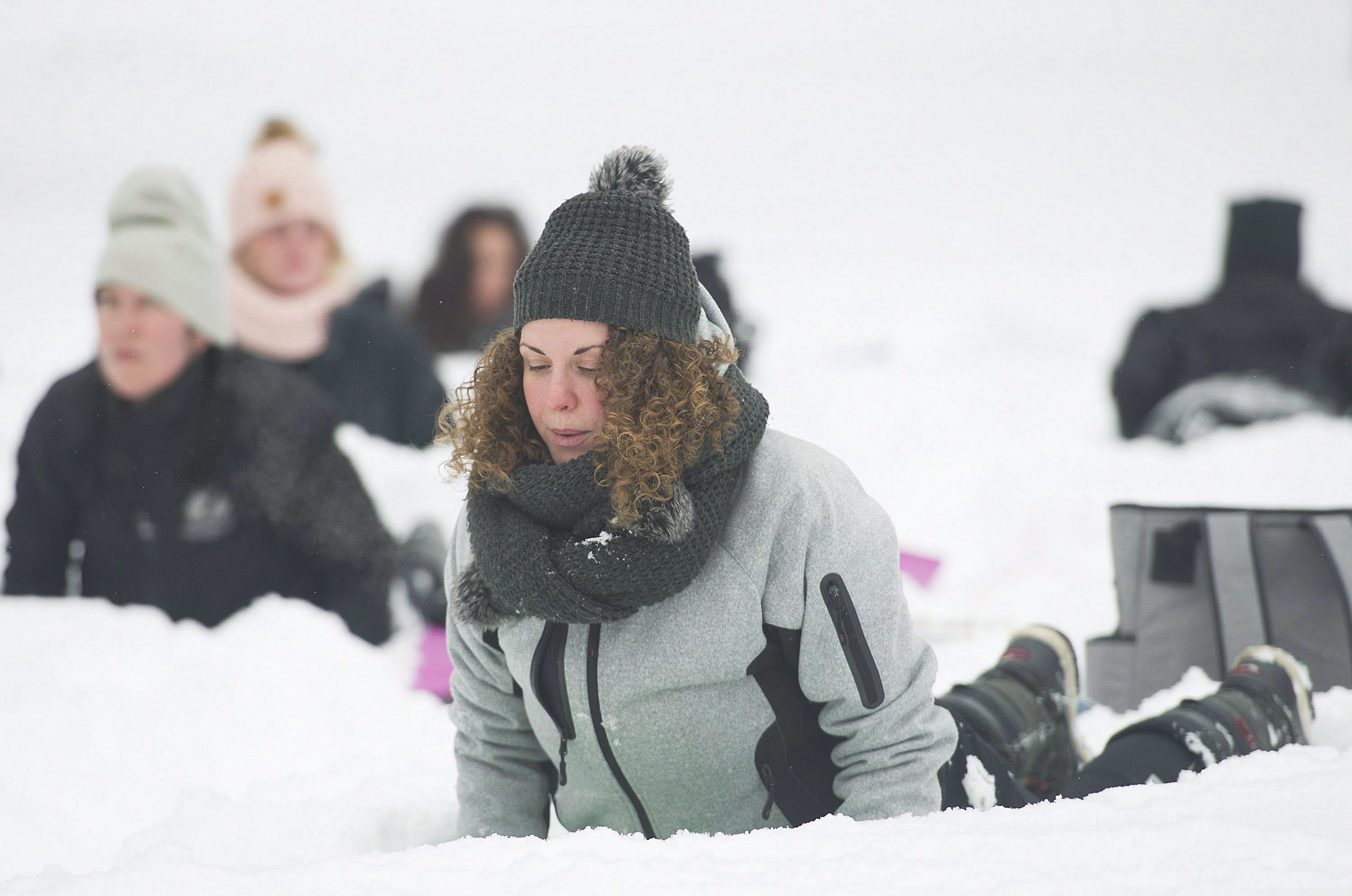 Melissa Ciampanelli participates in an outdoor yoga session at a city park in Montreal, February 10, 2018. THE CANADIAN PRESS/Graham Hughes. According to The Old Farmer's Almanac, there'll be more opportunity this winter for yoga in the snow.
When it comes to the weather forecasts, Burnett says they're about 80 per cent accurate overall.
They still employ the original methodolgy; a mix of meteorology, climatology and solar science, but now they use computer models to assist in the prognosticating. Burnett says
"We go back in the past and we try to find weather patterns that resemble the pattern in the present."
And he says, "We go back in the past and we try to find weather patterns that resemble the pattern in the present."
Last winter they were 79 per cent right, so this year it's time to prepare Canada, as Burnett says it's "One of the strangest winters that we've ever seen!"
"This coming winter is one of the few, if not the only time in our history that we see it snowy for the whole country… that never, ever happens" he says.
The Almanac got it right so far, predicting a chilly fall with snow before Halloween. Sure enough, in Toronto and Montreal this past weekend, home heating was working steady and we saw the first snow on the ground.
From information on the tides, to what to look for in skies, the Almanac covers it all. But as for the other treasures to be found in its pages, Burnett says it comes from us, the Canadian people.
We are constantly writing in, he says, by various means, and suggesting topics.
One of the most popular elements in the Almanac is the "Best Days" section.
As for the "Best Fishing Days", that's determined, like the weather, by a combination of factors according to Burnett.
Today for example, is a good day for buying an animal. For tomorrow, you'll just have to consult The Old Farmer's Almanac.