In an announcement to be made within hours, General Motors is expected to announce the end of operations in the city of Oshawa Ontario
Some 2700 unionised  and salaried jobs would be affected directly, but some 29,000 other auto industry jobs around the province with a variety of suppliers will also be affected, including at other GM plants in Ontario such as the engine plant in St Catharines.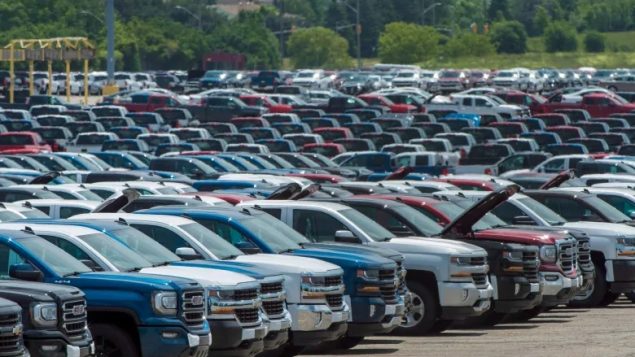 GM produces two models of cars and the Silverado Pickup and Sierra pickup trucks. (Tijana Martin-CP)
The ripples would be felt also among businesses like restaurants and other retailers throughout the southern Ontario as people tighten their belts or lose jobs.
The autoworkers union, UNIFOR, says it has little information about the closure other than to say it has heard "no product has been allocated to the Oshawa Assembly plant past December 2019, as such an immediate closure is not likely"/
The mayor of Oshawa, John Henry, says he also has very little information at this point.
Government bailout of billions of dollars
Ten years ago, the federal and provincial governments provided several billion dollars in loans to prevent bankruptcy of the firm.
How the expected closure announcement may be related to the recent USMCA (NAFTA) talks is uncertain, but US President Trump often targetting Canadian car production prior to the agreement.
The automaker has over 100 years of history in Oshawa, located about 60 kilometres east of Toronto. Vehicles marketed as Chevrolet were made there until 1918 when Canadian automaker McLaughlin merged to create General Motors of Canada.
The company currently makes, Cadillas XTS, Impala, Silverado, Sierra cars and trucks at the Assembly plant.
In the 1980's some 23,000 people were employed at GM Oshawa.
Federal, provincial, and local politicians, along with the union are all eager to learn more of the situation in order to react.
However in a statement Unifor said, ""Based on commitments made during 2016 contract negotiations, Unifor does not accept this announcement and is immediately calling on GM to live up to the spirit of that agreement".
Additional information-sources