Arctic sea ice reaches record-low maximum extent for 3rd winter in a row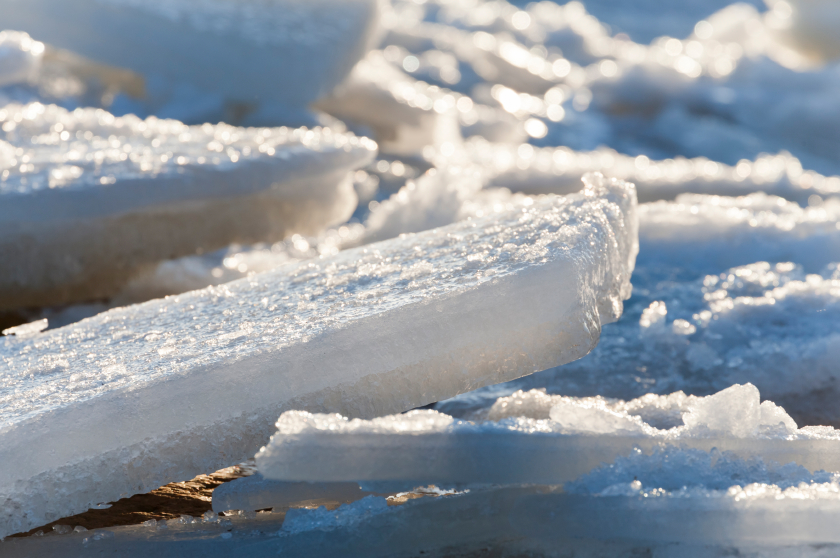 Arctic sea ice has begun its annual melt after reaching a record-low winter maximum extent, scientists announced

on Wednesday

.
The winter freeze-up peaked on March 7 at 14.42 million square kilometers (5.57 million square miles) of ice extent, the lowest in the satellite record that dates back to 1979, the National Snow and Ice Data Center said.
It is the third consecutive record low for winter ice extent, beating previous low marks set last year and in 2015.
"There's a pattern here, clearly," said Mark Serreze, director of the Colorado-based National Snow and Ice Data Center.
Warm weather over the Arctic Ocean
While dramatic melts have become expected for Arctic summers, the trend of less extensive winter ice is relatively new — and reflects a trend of warm weather over the Arctic Ocean. That was the case this winter, especially on the Atlantic side, Serreze said.
"We had this crazy jet stream and we had these heat waves into the Arctic," he said. Even well into winter, ice failed to form in some of the fjords on the Atlantic side of the Arctic, he noted. And overall ice extent actually retreated a few times over the winter as storms brought warmth north, he said.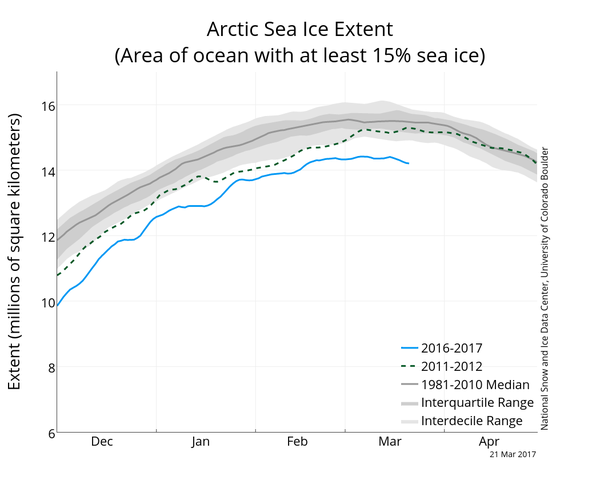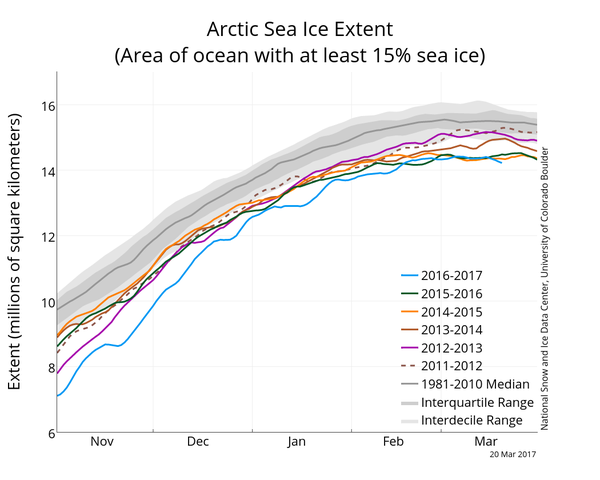 Winter ice extent wavered in earlier in the month, prompting center scientists to be cautious about declaring that the maximum had been reached. But the decline has been precipitous over the past week, and has been led by melt in the Bering Sea and Sea of Okhotsk, according to the satellite data. By Tuesday, sea ice extent had fallen to 14.206 million square kilometers (5.485 million square miles), according to the center's data.
Setup for big summer melt
Sea ice extent is defined by the center as the area of ocean that has at least 15 percent ice coverage. For summer melt, ice thickness is a more important factor than ice extent — and all indications are that thick ice is scarce, Serreze said.
That is a setup for another big summer melt, a year after sea ice retreated to the second-lowest extent on record, Serreze said.
"You're starting off on a rather bad footing," he said. "I'd be surprised if we're not among the lowest five because we can't get back in time."
Just how well the center will be able to track sea ice in the future remains unclear. No new satellite is expected to be in place until 2022, and there are concerns about potential interruptions in the record that goes back to 1979, Serreze said.
"We're at a situation where the remaining passive microwave instruments up there are kind of elderly," he said. "If we have satellite failures, we could lose that eye in the sky."
Related stories from around the North:
Canada: Climate-driven Arctic permafrost thaw will dramatically alter northern landscapes: study, Radio Canada International
Finland:  Winds challenging Finland's icebreakers despite record low Baltic ice, Yle News
Greenland:  Arctic summer sea ice cover could disappear with 2C temperature rise, Blog by Irene Quaile, Deutsche Welle
Norway:  Norway orders new Coast Guard vessels as vanishing sea ice increases areas needing patrol, The Independent Barents Observer
Russia: 2016, warmest year on record in Russian Arctic, The Independent Barents Observer
Sweden: Sweden's glaciers are melting away, Radio Sweden
United States: Eklutna Glacier, source of Anchorage's water, is dripping away — but oh so slowly, Alaska Dispatch News