Listen
The International Space University was the brainchild of three students at the Massachusetts Institute of Technology, MIT.  In 1987, two Americans, Peter Diamnadis and Todd B. Hawley, and Canadian, Bob Richards, were concerned that space-exploration was becoming increasingly polarized, particularly between the US and the USSR.
These young visionaries realized the future of space exploration needed to be safe-guarded as an inter-national endeavour.
They envisioned an educational institution based on what has become known as the '3-I's'. Now this non-profit graduate-school, based in Strasbourg, France, is international, intercultural and inter-disciplinary in its scope of space studies.
Space should be for all humankind
Writer Arthur C. Clarke took a great interest in the early days, and through a network of people who supported the idea the first summer session took place in 1988 at MIT.
Montreal's Space Studies Program, this 27th year, is hosting 122 pariticipants from 31 countries, with an average age of 33. David Kendall, co-director of the progarm, says that iIn 9 weeks the students will learn about all aspects of space, from the the science and engineering perspective, to the emerging fields of policy, ethics and the law.
The students will hear from some of the top 150 experts in their fields.  Coming in to lecture over the summer are people such as Jeff Hoffman, now at MIT.  He flew 5 times on the Space Shuttle, and repaired the Hubble telescope.
Astronaut Bob Thirsk, the Canadian engineer and medical doctor, brings a combination of the human experience and the technical aspect to students.
A recent event featured an "All Female Astronaut Panel" with Canadian Julie Payette sharing her early inspiration watching the moon-landing 45 years ago.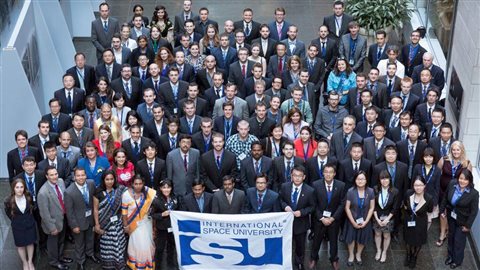 New Space
'New Space' is the theme of this year's session.  New Space is where the approximately 2,000 other solar systems are, and the search for life, or other "earths", continues.
Montreal was chosen to host the summer session because of the uniqe proposal that came from the combined efforts of ETS, an engineering school and HEC, a business school.  It was the first proposal that included a business school.
Next summer the SSP will take place in Athens, Ohio and the following year in Israel at the Technion Institute of Technology.