About 35 million people left in the dark
By the 1960's, North America was becoming heavily reliant on electricity.  A relatively prosperous economy meant people were buying a lot more of the increasing variety of electric and electronic gadgets that were becoming available while more and bigger buildings were being built in the major cities. All of this was increasing the requirement and demands for electricity.
To meet the demand, and to reduce individual costs, various electrical services and companies in southern Ontario and the northeastern US had linked up in order to supply each other as loads peaked and waned in particular zones.
The Niagara area is the site of massive hydro electric generation on both sides of the Canada–US border.  There are safety switches, breakers, on each of the multitude of power lines and generators set to switch off if a power surge exceeds that line's capacity. A few days prior to November 9, engineers in Ontario mistakenly set a safety relay on a major power line to switch off far below the line's capacity.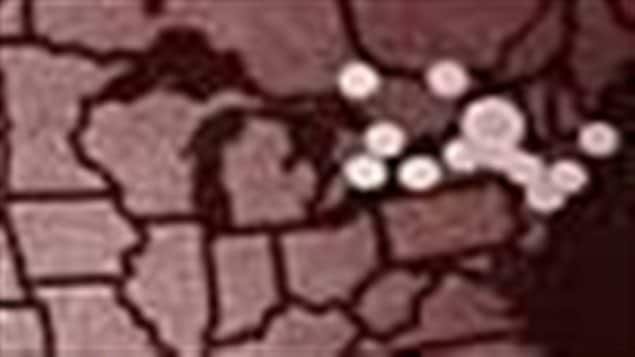 November 9, 1965 was chilly, and as the sun went down demand began to rise from heating , cooking, and lighting and lines were approaching capacity in southern Ontario.  A small surge from a US generating station at Lewiston NY (near Niagara)  tripped the improperly set relay on a main power line to Ontario at 5:16 pm
The power in that line was instantly transferred to other lines from the Sir Adam Beck station at Queenston, Ontario (near Niagara). These lines overloaded and tripped, cutting off power from the Beck station to Ontario.
Beck's now excess power was instantly directed to other lines on the interconnected grid into the US and tripped relays there, before the Beck generators automatically shut down to protect them from overload.
Although there were isolated "islands" that remained powered, the cascading effect caused power failures throughout the major cities in southern Ontario and throughout the northeastern US.
In rush hour, thousands were stranded in elevators and subways which suddenly lost power. Streetlights in cities went out causing traffic chaos.
Many of the stranded decided to stop in at local bars or restaurants rather than deal with the chaos, and spent a pleasant few hours chatting by candlelight.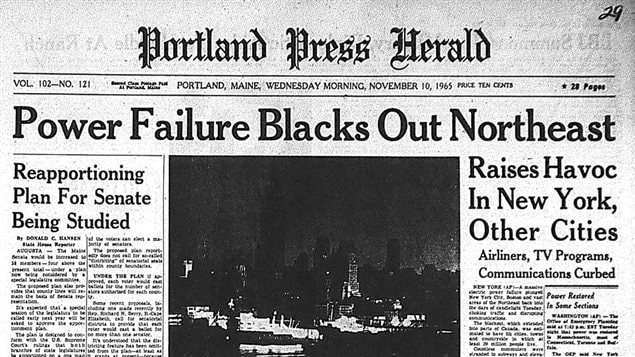 About 35 million people were affected by the blackout, which lasted anywhere up to 13 hours in some areas before power was almost fully restored.   Interestingly a blacked-out New York City, had one of its quietest nights in terms of crime.
A story that there was an increase in births throughout the black-out area nine months later has since been debunked.
The blackout however led to a number of modifications to prevent future blackouts.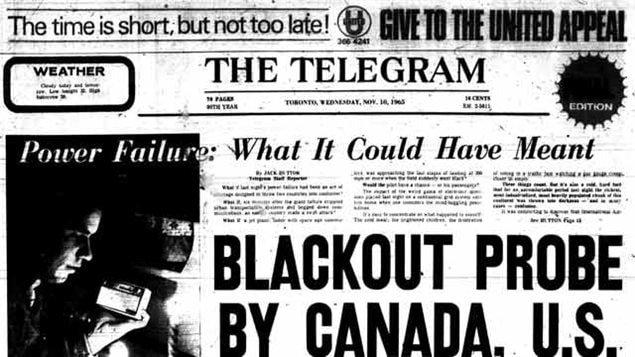 However,  that has not stopped other major blackouts.
In March 1989, a major geomagnetic storm caused a major blackout across Quebec. Businesses and schools closed and the Montreal subway (metro) stopped. The blackout deprived most of the province and about 6 million people of electricity for about 12 hours.
In 1998 a freak ice-storm in January knocked down major power lines in Quebec and eastern Ontario, depriving about 1.5 million people of power for anywhere from several hours to weeks in some cases. The storm,  is blamed for 35 deaths, over 900 injuries, and displaced over half a million people
On a hot August day in 2003, with air conditioners on  in central Canada and the northeast US power lines were again nearly overloaded. On the 15th, a similar occurrence to the 1965 event happened when a high tension line in Ohio brushed against a tree. A software bug failed to warn the operator, First Energy, to switch power to other lines.
It should have been a manageable local situation, but without the warning, conditions developed which again overloaded systems and relays and another cascading blackout occurred. This was even bigger than 1965 as it affected over 50 million people throughout the region over two days as power began to be switched back on. Eleven people were reported to have died as a result of the power loss. Another task force was created to look into solutions to prevent such blackouts.
additional information-sources