Canada is ready to work with the United States and Mexico to bring the 23-year-old North American Free Trade Agreement up to 21st century standards, Foreign Affairs Minister Chrystia Freeland said Thursday.
Her comments came after U.S. President Donald Trump's administration announced its intent to renegotiate the trilateral trade accord.
In a letter sent today to Congressional and Senate leaders, U.S. Trade Representative Robert Lighthizer said the president "intends to initiate negotiations with Canada and Mexico regarding modernization" of NAFTA.
"We intend to initiate negotiations with Canada and Mexico as soon as practicable, but no earlier than 90 days from the date of this notice," Lighthizer wrote.
'Ready to roll up sleeves'
Speaking to reporters on Thursday, Freeland said the Liberal government has been anticipating the notice for a long time and is ready for NAFTA talks.
"We are ready to roll up our sleeves. We have been from day one," Freeland said.
In the letter Lighthizer points out that NAFTA was negotiated 25 years ago and many of its provisions don't "reflect modern standards."
"For example, digital trade was in infancy when NAFTA was enacted," Lighthizer wrote.
The U.S. wants NAFTA to be modernized to "address intellectual property rights, regulatory practices, state-owned enterprises, services, customs procedures, sanitary and phytosanitary measures, labour, environment and small and medium enterprises," he wrote.
'Constructive work together'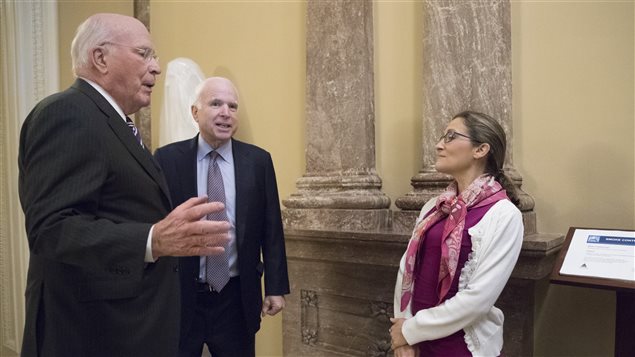 Freeland, who was the first foreign politician to meet with Lighthizer in Washington this week, emphasized he gave Canada advance notice of his letter.
In particular, she mentioned the labour and environment chapters as areas that would benefit from modernization.
"We can do constructive work together," she said, bringing them up to the 21st century standards Canadians expect.
"We are at an important juncture that offers us an opportunity to determine how we can best align NAFTA to new realities — and integrate progressive, free and fair approaches to trade and investment," she said.
Hold the line on NAFTA
The Council of Canadians, a citizen's advocacy group that has campaigned against NAFTA, said Prime Minister Justin Trudeau must make sure that "NAFTA doesn't harm the planet or our communities."
"We need to make sure that NAFTA is not a back-door negotiation for the privileged few," said Maude Barlow, National Chairperson of the Council of Canadians. "We need Prime Minister Justin Trudeau to stand up for people and the planet."