Facebook is a worldwide phenomenon, and so apparently are the scams now associated with its website
Those scam adverts often offer "free" flights, or free pizzas, or free gift cards from retail chains, or other free things. In spite of years of warning, the problem continues because people continue to click on them as  most of the adverts are so realistic looking.
However, clicking on them unwittingly opens the users to a host of problems.  Many Facebook users also share these offers amongst their friends who subsequently click thinking the adverts are safe because they were sent by a friend.
Many of the scams seem to be tied to a firm's anniversary or birthday of some sort, and also often insist you share it with friends to be eligible.
The problems by clicking on or sharing the advert however could range from Facebook shutting down your account for spreading spam, to infecting your computer and compromising friends accounts.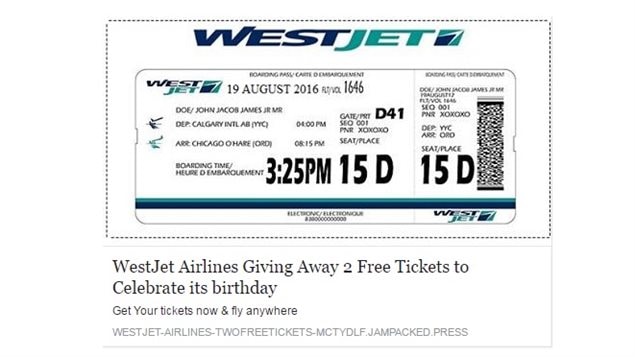 Quoted by a CBC article, Ed McHugh, a marketing expert at Nova Scotia Community College, said  sharing or even simply "liking" the offers "can lead us down a rabbit hole to anywhere on the planet."
He told CBC, "You don't know what kind of villains or viruses you're opening yourself up to, which could destroy the technology you have, or maybe even be phish that could take down the technology and phones of friends,
While Facebook says it has a team constantly working to detect and block scam websites, However as Adweek noted back in 2011, "scammers have a way of moving to new addresses as soon as Facebook blocks an old URL, so it behooves you to remain watchful for posts that look dubious".
To avoid problems, simply ask yourself if it is even reasonable that a company would give away free flights, vouchers, food, etc. to everyone.
Also check spelling a grammar.  You should never expect a professional site/advert to make such mistakes.
Asking you to fill in a survey to participate is also a warning sign.
And, as always, an offer to good to be true, probably is.
Yvonne Colbert on scams

Additional info- sources