Hearing you have cancer is bad enough, but if you think the word "cured" ends that concern, a new study shows quite a different picture.
The comprehensive report is called Living with Cancer: A Report on the Patient Experience.  
It includes the thoughts and experiences from some 30,000 former and current cancer patients in Canada.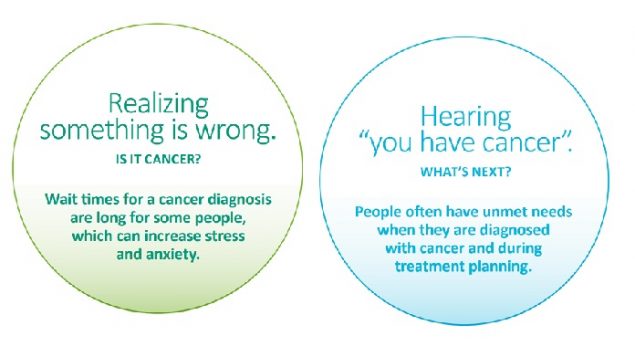 Though the disease itself may be getting quality treatment in Canada, this report shows an extremely high percentage of patients suffering from a variety of other emotional, psychological, and physical problems connected with current or post-cancer treatment, and a lack of help in dealing with them.
"Following my cancer treatment, I felt like I was left floating in the breeze in a scary world of uncertainty. I was no longer actively fighting against my tumour but I had this underlying fear that it might recur at some point, My doctors never told me I was in the transition phase of my cancer experience, they did not discuss next steps and things I could expect, and they did not direct me to any resources. I felt like I was on my own,"  Charlotte Kessler, patient advisor for the Partnership
Quick Facts
Up to one in five cancer patients report no one discussed different treatment options for their cancer with them.
Up to one in four report that their care providers did not consider their travel concerns when planning for treatment.
One in four report that they were not satisfied with the emotional support they received during outpatient cancer care.
Eight in 10 report having physical challenges after their treatment ends. Increased fatigue and changes in sexual function and fertility were the biggest concerns.
Seven in 10 report having emotional challenges after treatment ends. Worry about cancer returning, depression and changes in sexual intimacy were their biggest concerns.
Four in 10 report having practical challenges after their treatment ends. Returning to work and school, as well as financial problems such as paying health care bills and getting life insurance were the biggest concerns.
The report by Partnership Against Cancer  draws on a multi-provincial, multi-year effort called Patient Reported Outcomes which began in 2013 along with information from the Ambulatory Oncology Patient Satisfaction Survey and initial results from the first Canada-wide study of cancer survivors.
The report highlights the need for better communication with patients to assess such things as emotional, physical and other practical concerns following treatment, along with more resources and supports to deal with the ongoing issues.