They were greeted with much fanfare on their arrival in Toronto on Monday, but not everybody is pleased with the two giant Chinese pandas loaned to Canada for the next ten years.
CBC readers sent dozens and dozens of comments about the story.
The top-rated comment criticized the cost of the loan and made reference to the government's cancelling of the Experimental Lakes Area in northern Ontario.
"$10 million for cute pandas. World-class fresh water research not so much," said Merkin Muffley.
Many other readers complained about the price tag, but the government says it isn't paying anything to host the pandas in Canada. Henry Nicholls, author of The Way of the Panda, says zoos will typically pay $1 million per pair per year, although the figure can vary. The Toronto Zoo has spent $8 million on a new enclosure and is expected to spend $2 million a year on maintenance.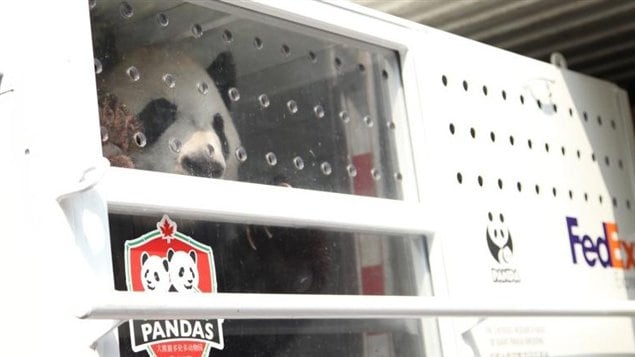 Fewer people defended the cost of bringing the pandas over from China and keeping them in Canadian zoos.
"I would suspect that taxes generated from tourism would more than cover the cost of keeping these animals in Canada," said bochdan.
Other popular comments made reference to the fact that Canadian Prime Minister Stephen Harper was in Toronto to greet the pandas, and not in Ottawa to talk to the nearly 300 young aboriginal people who had made a 1,600 kilometer trek from Hudson Bay to protest against living conditions on reserves.
"Unfortunately, a couple of animals are more important to Harper than a group of concerned citizens who trekked 1600 kilometers to see him. Sad. China 1, Canadian human rights 0,,,,, again," said star rider.
"Really?? Harper's at a Toronto photo-op with panda bears, instead of being on Parliament Hill to greet the Nishiyuu gang after 1600km on foot?? Epic fail Harper. Shame on you, ,said PrivacyGuy.
Some readers criticized the media coverage of the event.
"Just popped into the comment section to state that we are all not fascinated with pandas, and for the first time I can actually say that I'm commenting without even reading the article," said Viajante.
"Me too, saw the headline and asked myself 'we are?' I am fascinated with why the media thinks the public is fascinated with this subject. They are the ones whom are bombarding us with such content," replied Western Canadian.
"This is the most annoying news item today," said seeker444.
Other readers were concerned about the well-being of the pandas.
"People are kind of lulled into a sense of security because they do appear so cuddly," Doty said, "but we need to remember that pandas, as well as any other animal in a zoo, are still wild animals, so we need to treat them as such — with respect. Actually they should be treated like wild animals— in the wild.", said reader Baby Puppy.
"I remember quite clearly when I was on a project in China, one day visiting the Chengdu Zoo in Szechuan, where there are a number of pandas. If one worries about keeping animals in zoos as I do, it was a disturbing sight. I don't know why pandas seem so popular, but they are just like any other animal that deserves to be free and not treated like a political pawn," said Squirly Girl.
With files from the CBC.