Agriculture Canada says there were about a quarter million goats on some 9000 farms across the country in 2011. That's almost double the number from 1996, but Canadian goat producers say they can't keep up with demand for goat products which is popular mostly in immigrant communities.
In the province of Ontario, there are about 200 farms licensed for milk production while another 200-300 farms sell goat meat.
Bob Covyeow and his son have about 50 goats on their farm east of Windsor, in southwestern Ontario.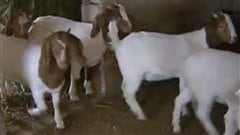 Windsor is the fourth most culturally diverse city in Canada and Mr Coveyeow says most of his customers come from countries like Jamaica, Croatia, Italy, and India. "The more immigration there is, the more demand there is" he says. He notes that the demand for goat-meat is higher than the supply in Canada so several hundred thousand kilos of goat meat is being imported into the province each year.
The peaks demands occur around Easter, Ramadan, and Eid. The US Department of Agriculture says goat meat is the leanest of red meat livestock.
Mr Covyeow says producers hope to band together to create a uniform marketing board to improve production and sales to eventually meet the growing demand in Canada.
(mm with files from CBC / CP/ Calgary Herald)