What will life be like in 2030?  How is technology changing us?. Those questions constitute the theme of a conference being organized by York University in Toronto as part of a larger series called Research Matters.
One of the invited speakers at this Thursday's event (May 09) at the Royal Ontario Muesum, is Dr Richard Lachman of Ryerson University in Toronto.  He is director of the RTA Trans-media Centre, and assistant professor in the School of Media
Listen
Two hundred years ago, a period of 17 years say 1813-1830, didn't mean much in terms of societal change and technological development. In other words, things didn't change that much.  Then 100 years ago, say from 1913 to 1930 society and technological change during that period of 17 years was in fact quite noticeable,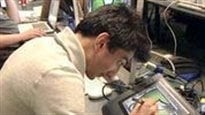 York University in Toronto has invited experts from a number of fields to talk about how life will be different and what those differences might be.  Speakers will participate from the arts, humanities, science and technology. "Life in 2030" is one in a series of Research Matters events organized by York University designed to offer members of the public a look into how research affects their daily lives and discuss with experts who are in involved in the research that eventually results in new developments and subsequent changes.
Dr Lachman says we are now, and will continue to seek ways to communicate with each, but we're simply doing it through different means. He also notes that technology will make it easier for people to create, whether that be in music, arts, video, or physically through such things as 3D printers.
He notes however that technology feeds upon itself and develops along new paths very quickly. Laws may not keep up with its implications, but we should be supporting other faster reacting institutions like the Privacy Commissioner.
In the meantime, we are becoming more savvy as to the implications of our online activities, but parents should be talking even to their young children about privacy issues, and the fact that once things are on the on the internet, its almost impossible to remove them.
Still he notes again, that it was impossible  just a few years ago to predict where we are today in terms of technology, and the same holds true in 2030.  The important thing he says, is to continue talking about the changes that are and will happen and be better prepared for both the advantages and disadvantages.